Colorado Fishing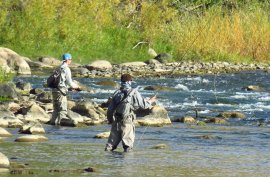 Updated: 1/5/2016
1. Upper Arkansas River (Gold Medal)

Over 102 miles from the confluence with the Lake Fork of the Arkanas near Leadville to Cañon City, the Arkansas River drops nearly 5, 000 feet in elevation and passes from sub-alpine meadows through bouldered canyons and irrigated hayfields before entering Bighorn Sheep Canyon below Salida. There, the river transects a high-desert environment that is home to its namesake sheep as well as a population of wild brown trout and introduced rainbows. With a warm and dry climate throughout the year and nearly 40 miles of public fishing access, Bighorn Sheep Canyon is the Arkansas' prime fly-fishing destination. Flows are supportive of wade fishing most of the year, and float fishing has become an increasingly popular way to work the shoreline pockets favored by brown trout. Fish: Rainbow trout, brown trout Directions: From Salida, drive east on US 50. The canyon continues east beside the river for roughly 40 miles.
Fly-fishing on the Animas River in Durango
Fly-fishing on the Yampa River near Steamboat Springs, CO
2. Blue Mesa Reservoir
Damming the Gunnison River in 1965 created the Blue Mesa Reservoir, Colorado's largest body of water, and a fly-fisher's playground. With more than 96 miles of shoreline, finding a shady spot to cast a line is easy. Or, explore the acres of the pristine reservoir by boat. Deep-water areas are best for landing lake trout and brown trout. Brook trout tend to stay away from the deep open waters, but are often found feeding near the mouths of rivers and streams that flow into the reservoir. Rainbow trout are the most abundant in these waters and can be found in the reservoir and river areas. Fish: Rainbow trout, brook trout, brown trout Directions: From Gunnison, take Hwy. 50 west for nine miles.
3. Animas River (Gold Medal Waters)
The section of river flowing from Durango to the New Mexico border has been classified as Gold Medal water, easily supporting populations of rainbow and brown trout 14–18 inches in length. The bends, log jams, boulders and eddies are prime spots to kiss the surface of the water with nymphs or streamers. One thing to keep in mind before you go: the Animas River runs through Southern Ute Indian reservation land in the south, and special permits are required to fish this section. Contact the reservation for more information on their requirements. Fish: Rainbow Trout, Brown Trout Directions: Hwy. 550 south from Durango runs alongside the river. Southern Ute Tribe Division of Wildlife Resource Management: 970-563-0130.
4. Grand Mesa Lakes

The Grand Mesa Lakes comprise more than 100 natural lakes and reservoirs with pristine alpine water. These bodies of water offer a wide variety of trout and are ideal if you want to try landing an array of species. Boating is allowed on some, but not all, of the lakes. Be sure to read posted signs before putting in. Dozens of fish-laden streams that also bisect the area are a good way to enjoy a piece of solitude when angling for your next big catch. Fish: Rainbow trout, cutthroat, brook trout, brown trout Directions: From Delta, head north along Hwy. 65.
You might also like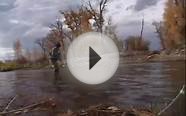 Fly Fishing Colorado - October - Mountain Whitefish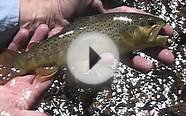 Fly Fishing Colorado - Overview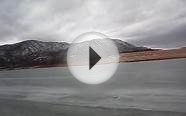 Colorado Ice Fishing Update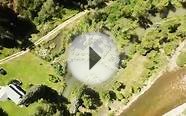 Colorado Fishing Property–Snowshoe Ranch 29564 County Rd ...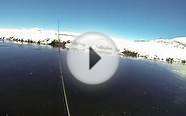 South Platte River Trout Fishing - Colorado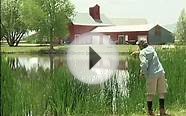 Fly Fishing Colorado - May - Bass & Bluegill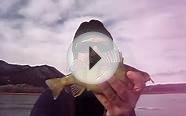 Colorado Ice Perch Fishing 10/26/10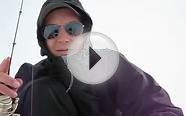 Colorado Ice Fishing rocks with blue mesa ice fishing.com ...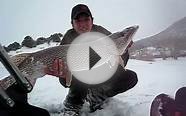 Slob Pike caught Ice fishing in Colorado
Popular Q&A
What is colorado's state fish?
Colorado's state fish is the Greenback Cutthroat Trout. An intro of other trout is leading to their decline.
How much is a Colorado fishing liscense for a day?
A one day fishing license is $14, for a resident or non-resident. Each additional day is $5. Don't catch 'em all! forever!