Colorado non Resident hunting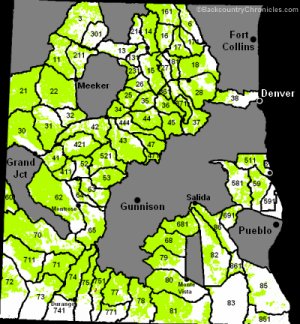 Over-the-Counter Elk Tags Available to Non-residents in Colorado
Elk Archery Season – Either sex elk – can be hunted in 138 units (80 west of I-25, 58 east of I-25) – See Figures 1 & 2.
Elk Archery Season – Antlerless elk – can be hunted in 62 units (54 west, 8 east) – See Figure 3.
Elk Rifle Season (2nd and 3rd seasons) – Antlered elk – can be hunted in 92 units (84 west, 8 east) – See Figure 4.
Elk Plains rifle season – Either sex elk- can be hunted in 54 units (4 west, 50 east) – See Figure 5.
Non-residents can buy Elk Licenses Over-the-Counter (OTC) in all but 36 of those units to hunt with archery equipment or any one of three rifle hunts. That is a total of 148 units have OTC tags with four different options to hunt elk, all over the counter. The license and tag costs for Non-residents for 2016 is $636 for Bull Elk or Either Sex Elk tags and $476 for cow/calf (antlerless).
These OTC tags go on sale every year in early July. The antlerless and either sex tags are limited for both resident and non-residents, so first come first serve. The antlered Elk (Bull Elk) OTC tags are unlimited for both resident and non-residents.
Elk Habitat and Colorado Ecoregions
If you know anything about Colorado, Interstate 25 runs down the Front Range of the Rockies and divides the state with about two-thirds in the west and one-third of the state in the east.
The West is primarily mountainous and is mostly in the Southern Rockies and Colorado Plateau ecoregions, but also includes part of the Wyoming Basin and the Arizona/New Mexico Plateau. The ecoregions found in Eastern Colorado are the High Plains and Southwestern Tablelands.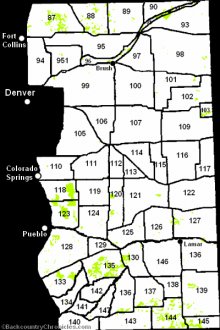 Elk primarily live in the mountains, so 41 of the 43 DAUs are in the western part of the state and only two DAUs are in east of the front range.
2014 Colorado Elk Harvest
According to CPW data, 41, 900 elk were harvested in 2014, about 98% from 125 units west of the Front Range and the rest were harvested from 49 units east of the Front Range.
Evidently, not all of the elk read CPW's Elk Management plan since a few elk were harvested in 39 units not assigned to a DAU in the eastern part of the state. That's obviously not many elk, but proof that elk do occur in some of the eastern these units. Anyway, most elk hunting is in the western part of the state as is most of the public land.
In all of the map images (Figures 1-5), I superimposed public land on top of the Colorado elk units that have tags available for non-resident hunters. The images are intended to show which units have OTC elk tags for non-residents and to demonstrate the general amount of public land in the various hunt units. Obviously, you will need more detailed maps if you plan to hunt.
In some cases, there are additional tags available OTC to non-residents, but they only allow hunting on private lands. I only included units that allow hunting on public or private lands.
2014 Colorado Elk Hunting Success
Overall elk hunt success = 19%
All rifle = 21%
1st rifle = 23%
2nd rifle – 15%
3rd rifle – 16%
4th rifle – 19%
All archery 14%
Muzzleloader 19%
Hunting on Colorado State Trust Lands
The access to hunting has been obtained by Colorado Parks and Wildlife through a seven year lease that was signed in 2006.
If my math is correct, that means the lease is up in 2012 or 2013 depending upon when the seven years started. Hopefully, a new lease will allow continued access to these lands for hunting.
It is a shame that the other 2.4 million acres of State Lands in Colorado are not open for public hunting as most State Trust Lands are in other States like Arizona, New Mexico, Montana and Montana (with permit) or Idaho, Oregon, Utah and Wyoming (without permit).
State Trust lands may occupy the 16th and 36 section of many townships in Colorado, but you can not hunt on most of those sections.
Public Land in Colorado
There are still plenty of public lands to hunt in Colorado. There are over 14, 5 million acres of US Forest Service lands and 8.3 million acres of BLM lands. Including the State Trust Lands that are open to hunting, that totals over 22.8 million acres of public land which is about 34 percent of the entire state which is available for public hunting.
Bow & Arrow Magazine Sept. -Oct. 1969: Colorado Mountain Lion Hunting; Tackle Tricks with Tape; Bow Test-Sabo?s Short Hunter; Profile of a Champ Wes Hagemeyer; Oregon-Archery?s Wonder Wood;
Book (Gallant Publishing Company)