Monster Mule Deer Outfitters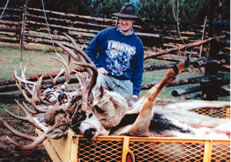 Hubbard Creek Outfitters is working with specific private land owners for trophy quality mule deer. The landowners are only concerned with taking trophy mule deer off of their property.
These will be always be trophy quality bucks. Landowner tags are available for these hunts.
The Hubbard Creek region of Western Colorado is renowned for its exceptional trophy mule deer hunting opportunities. The region is game rich with elk, mule deer and black bear. We offer specialized trophy mule deer hunts tailored to the needs of the sportsman. Combination hunts are also available and include pack in tent camps onto National Forest lands and private ranch hunts with cabin accommodations.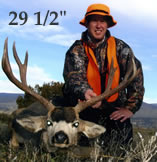 In the November Mule deer hunt we follow the migration into the valleys and hunt them down lower in the valleys. We hunt private as well as public land on these hunts. The landowners we work with have a trophy fee if we harvest an animal on their property. Not to demanding in nature usually but can be sometimes. Our best trophy hunt before the November prerut hunt is our muzzleloader hunt. If you like that type of hunt we love it. Very good hunt and fun.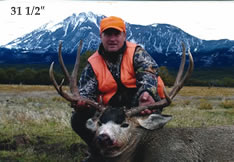 Our access to both public and private property with Colorado trophy mule deer hunting opportunities is unsurpassed, and our unique setup allows us to hunt the famous Hubbard Creek areas in its entirety, including over 5, 000 acres of private lands.
Whether you are a bowhunter, black powder/muzzle loader hunter or a rifle sportsman, we guarantee you a wonderful experience and the quality hunt of a lifetime. We are a locally owned family business, licensed and bonded as required by the State of Colorado.
Our big game hunts furnish you with top guides, excellent cooks, vehicles and all the camping gear and equipment. We pride ourselves on our 32+ years of excellent service and hospitality.
We provide all the transportation from Grand Junction to your hunting camp and back after the hunt is over. After the thrill of the hunt is over- we can help with game care of the meat, care for the trophy in the field, transportation to the processor of your game, and transportation of your trophy to a quality taxidermist.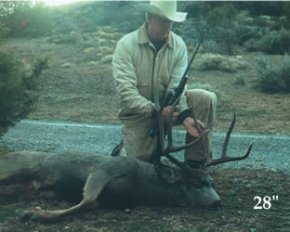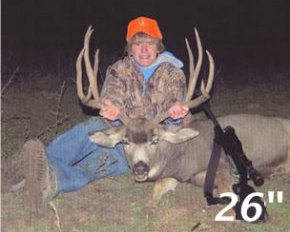 You might also like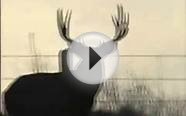 6x7 Montana Mule Deer Monster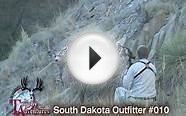 WTA South Dakota Outfitter #010_Mule Deer_1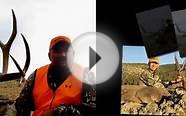 "Monster Muleys" Mule deer hunts of over 250 plus ...
Moffat County Colorado USGS Topographic Maps on CD


Sports (Image Trader)




All the USGS 1:24, scale quadrangle maps for your County have been merged together to create this seamless map CD.
Easy to use - No experience needed. Free GIS viewer software -Windows 98/2/NT/XP/Vista/Win7. MAC users must run under windows dual boot.
Zoom, pan, measure, copy/paste into reports, and print your own maps.
No need to carry multiple USGS maps anymore. Print just your area, even if it falls on the corner of the original paper map. Our digital maps do not have corners...
No restrictions of use. Commercial use is allowed. Use in publications, websites, & maps/posters. You get full utility of the data - not just a jpg snapshot!
3dRose fl_88876_1 Garden Flag, 12 by 18-Inch, Colorado, Moffat County Wild Horses-US06 BJA0265-Jaynes Gallery


Lawn & Patio (3D Rose - LG)




Overall dimension (in Inch): 12 x 18; image size (in Inch): 10 x 10
Made of 100% single-ply semi-opaque polyester
Image is printed on one side, with a lighter image visible on the backside
Suitable for hanging from a flag pole (8mm in diameter), on a wall, ceiling, banisters or doors
Hanging hardware/pole not included
Danita Delimont - Horses - Colorado, Moffat County. Wild horses - US06 BJA0265 - Jaynes Gallery - MousePad (mp_88876_1)


PC Accessory (3dRose LLC)




Dimensions (in inches): 8 W x 8 H x 0.25 D
Matte finish
Soft to touch, will not crack or peel
Clean with mild detergent
Made of heavy-duty recycled rubber

3dRose mug_88876_1 Colorado, Moffat County Wild Horses US06 BJA0265 Jaynes Gallery Ceramic Mug, 11 oz, White


Kitchen (3dRose)




Made of white ceramic
Image printed on both sides
High gloss finish
Available in 11 oz. and 15 oz.
Contains no lead