Mule Deer Hunt in Colorado
The buck had picked a spectacular spot for a nap. I could only see the antler tips, swiveling in a line of brush on a knifelike ridge sticking deep into the canyon. On three sides the land dropped away, providing a breathtaking view of the valleys and mesas, meadows and timber, that make up this West Slope region of the Colorado Rockies.
The buck was bedded so as to see anything coming from below. His back should have been protected by the wind, but luckily for me it had shifted, allowing me to stalk within 60 yards. I looked at my guide, Scott Bystol, and he shrugged and pantomimed for me to keep going. It wasn't until I was within bow range that I got a good look at not one, but two muleys, bedded together.
I peered through the peep with the bead on the bigger buck's chest, and then lowered the muzzleloader. It was a good deer, but we had seen better. Earlier I had told Bystol that what I most hoped to do on this hunt was to stalk within range of a bedded mature buck. Having done so, we smiled and watched the two bucks swiveling their heads and ears, scanning for danger, unaware of the men crouched in the brush behind them. I leaned into Bystol and whispered, "Let's go find another, " and we slipped away.
Going Big
I'm a terrible trophy hunter. If I've had a rewarding hunt and get the chance to fill my freezer, any mature animal is a trophy to me. But I didn't drop the hammer on that bedded buck because I had decided on this hunt that I was looking for something special. The previous fall I had killed what should be the mule deer of a lifetime for an Easterner like me.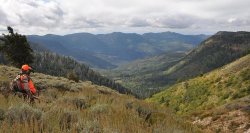 And now, one year later, I was hunting the High Lonesome Ranch, a spectacular chunk of mountains with ideal habitat and bucks that can score 200-plus B&C. I was with my good friend Joe Arterburn, who works for Cabela's, and we were both so stoked about this hunt that during the long trip into the high country our talk grew exuberant. Our visions for the week went from ambitious to epic. Hunting with a muzzleloader topped with iron sights would make it a challenge, no matter how good the property, but I felt sure that I was going to hunt the buck of my dreams.
I found him on the first day. Bystol and I had spent the afternoon still-hunting through a timbered valley that literally reeked of game. Deep game trails ran through the aspens and lodgepoles.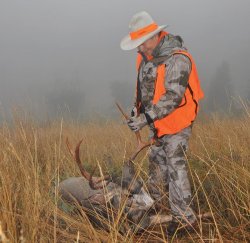 There were elk and mule deer tracks and scat everywhere, and in several spots the rank odor of rutting bull elk was so strong that it brought us to a halt.
At sunset we came out in a creekbottom and looked up a steep hill rising to a sage flat. There, silhouetted against the indigo sky, were two bucks with nearly identical racks: high, wide, and heavy on 4x4 frames but each sporting a crazy collection of stickers and kickers bristling off the back. We made a good play on the deer, speed-crawling around the rim of the plateau until we were within rock-throwing range of the juniper where we had last marked them. And there they were—but we were out of shooting light, and the bucks were nothing more than shadows sinking into the dark.
When the sun rose we were back, having hiked miles under the stars, climbing a rampartlike approach to the flat in order to have the wind right. We figured that Kicker and Sticker, as we had started calling them, would have spent the night feeding in the sage. For most of the morning we crept about, peering into dips and over knolls and glassing—always glassing—trying to spot the deer before they went to bed. No luck.
Before moving on, we sat to have some water and jerky on a rise looking back on the flat, and there they were: five bucks, including Kicker and Sticker, milling about the sagebrush 150 yards away. And then as suddenly as they appeared, they disappeared. We glassed methodically and spotted one of the smaller bucks, bedded down with his head lying flat on the ground. The bucks were on a slight hump, and we figured the two bigger ones were bedded just over the rise.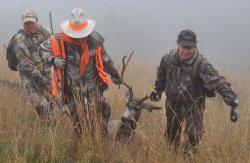 For an hour we watched and strategized. We could wait for them to get up, but that could take hours, and when they did, would we have a shot? The wind was steady, so we stripped off our extra gear, circled into the breeze, and went after them.
The stalk was perfect. Slow. Silent. Unbearably intense. I peered into the waist-high sage ahead of me so hard that my eyes burned. Who knows what a mountain lion feels before it pounces, but I can't imagine it's much different than how I felt. I got to where I was sure they were bedded and stopped, thinking that the bucks had to be just ahead, practically under my feet. That's when they broke with a rustle and thump. I was off by 15 yards; they were to my right and behind me, and by the time I swung I could only put the sights on the rump of one of the bucks. It was a terrible angle for a shot, but from that perspective their racks looked massive as the deer bounded over the ridge.
Dreaming of Monsters
Over the next four days I stalked lots of bucks. Many busted me before I got within range, streaking across the sage or appearing suddenly where they shouldn't have been, staring intently at me. But sometimes it worked out, and I got close enough to have to make a decision. No matter how the stalk ended, Bystol would grin and say, "Let's go find another."
We had action all week, even the day when a sudden fog moved in, reducing visibility to 50 yards. That morning Arterburn killed a beautiful 4x4 that appeared out of the gloom like a ghost. Then just as suddenly, the fog was gone. The hunting was so good that I was never conscious of the week's slipping away. Every night we had steaks and bourbon in an old sheepherder's log cabin and told stories of animals and mountains. I was so worn out and satisfied that I was dreaming as soon as I doused the lantern in my wall tent.
You might also like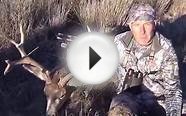 Colorado Archery Mule Deer Spot & Stalk hunt getting close ...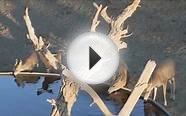 Easton Bowhunting TV - Colorado Mule Deer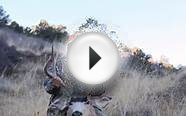 Hunting the Rut: Colorado Mule Deer Hunt 2014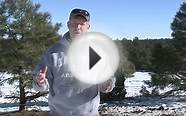 Easton Bowhunting TV - Southern Colorado Mule Deer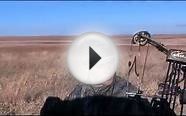 Spot & Stalk Mule Deer Bow hunt in Eastern Colorado see ...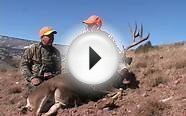 Rifle Mule Deer Hunt in Colorado with Jay Scott
Mountain Khakis Men's Original Mountain Pant Relaxed Fit, Ranch, 40x34


Sports (Mountain Khakis)




Five pockets
MK signature features
Antique metal shank button & YKK zipper
5 Pockets, Patch Back Pockets
Diamond-Shaped Action Gusset, Reinforced Heel Cuffs
Triple-Stitched Seams
Mid-Rise, Relaxed Fit
Garment-Washed

Mountain Khakis Men's Ranch Shearling Jacket, Tobacco, Large


Sports (Mountain Khakis)




Six pockets
Bi-swing back
Fold down collar
It contains 6 pockets
Shearling Lined Hand Warmer Pockets