Best boots for Elk hunting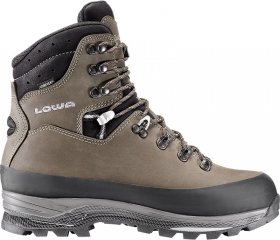 Selecting footwear is one of the most important gear decisions that an outdoor enthusiast can make. I am approaching this review from the perspective of bowhunting elk in mountainous terrain, but my history with backpacking and trail running have always demanded that I pay careful attention to how I protect and care for my feet.
When it came time to prepare for my elk hunts, I knew that I needed to critically analyze what type of footwear I was going to use. Part of me wanted to go with trail-running shoes – and as a trail runner, I had plenty of options to choose from and experience to lean on – but I knew that carrying a week's worth of gear on my back, and potentially packing out an entire elk in the steep, unforgiving terrain of the Colorado wilderness would require more support.
I considered, analyzed, and tried a lot of boots, but kept coming back to the . LOWA was established in 1923, in Jetzendorf, Germany, and the Tibet is still handcrafted in Germany to this day. LOWA describes the Tibet as, "Ideal for carrying heavy (50+ lbs.) loads, over long distances in rugged terrain and extreme weather conditions." Yeah, I would say that sounds like elk hunting!
My Experience
In this review I want to detail the materials, construction, and design features of the LOWA Tibet boots. I'll also cover a few practical ways that they have impressed me over the past year, and a couple of things to look out for if you're considering the LOWA Tibets. But first, I want you to know that this review has been a long-time coming. I didn't get these boots last week, or last month, and walk around the neighborhood to "test" them out.
I have worn the LOWA Tibets on trips in 4 states, through temperature ranges of 20-90 degrees, from sea level to 11, 000′ in elevation, and have carried over 80lb loads with these boots. They have been on my feet for extended, week-long trips, and for long 12+ mile day-hikes that climbed several thousand feet of elevation. They have seen dry and dusty conditions, as well as rain, sleet, and snow. Suffice to say, I've tested them thoroughly.
Materials & Construction
The LOWA Tibets feature and high-grade nubuck leather upper, with a patented, seamless GORE-TEX liner. The outsole is Vibram Masai. Inside the boot is a full-length, full-width 5mm nylon stabilizing shank for support and rigidity in the toughest terrain.
I mention each of those materials and construction features specifically, because they are the exact features that have made a difference, for me, in how this boot performs in real world use. The leather has been incredibly durable through a variety of conditions and terrains, and combined with the seamless, waterproof GORE-TEX liner, the Tibet has kept me dry all of the time. It doesn't matter if I'm hiking through wet brush, crossing creeks, or enduring an hours-long downpour – my foot have always been dry in the Tibets.
I've had some breathability and overheating issues with other GORE-TEX boots in the past, but the Tibet actually does quite well in warmer temperatures. They claim to have a Climate Control system with micro-perforations to let air in the boot, while releasing moisture out of the boot. I can't say that I know how they achieve this, but the Tibet does keep me cooler than other full-leather, waterproof-lined boots that I've worn in the past.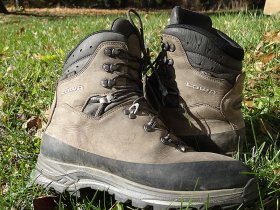 Finally, the shank and outsole have been proven to be huge assets in my hiking and hunting. The LOWA is a stout, solid, and sure-footed platform that excels in off-trail terrain. A lot of boots – and even shoes – will perform on a trail; but covering miles and miles off-trail in the mountains, under the load of a heavy pack, will stress your footwear and your feet. The ridigity of these boots is an enormous asset when climbing up and down, or side-hilling across steep ridges.
Design
It's critical for a boot to have great source materials and piece them together with solid construction, but the seemingly-small design details matter, too. There are numberous design details that LOWA got right with the Tibet, such as the high-walled rubber rand, but two design features really stand out for me – the lacing and the tongue.
The tonue itself is made of a thick, yet not-too-thick padding. There's always a balance between providing comfort and protection without creating bulk, and LOWA nailed it. Moreoever, the shape of the tongue fits the foot with anatomically correct contours. A small detail that provides all-day comfort.
On the front of the tongue is a unique stud that integrates into the lacing system. This integration keeps the tongue secured in place, and centered where it should be on your foot. Again, a small detail that has noticeable benefits.
In the video below I discuss one of my favorite features of the LOWA Tibet – the lacing system. Lacing is such an over-looked aspect of boots, but it makes such an enormous difference in allowing the boot to fit to your unique foot, keep that foot locked in place to prevent blisters, and provide comfort for long days of hiking.
On the Ground
We've have looked at materials, construction, and design features, but what really matters is how these boots perform on the ground. I've touched on some of my experiences already, but let me reiterate the practical, functional, tangible benefits of these boots.
You might also like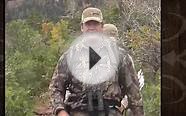 Utah Elk Statewide Hunt 414" Huge Bull - MossBack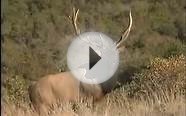 "Un-bull-ievable" Hunting Bull Elk with MossBack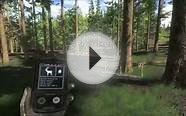 thehunter 2014 elk hunting bulls best elite comp silver medal
MTECH USA MT-097SL Fixed Blade Knife 9-Inch Overall


Sports (MTECH USA)




9-Inch overall
440 stainless steel, double edge
rubber handle
blood groove
nylon sheath
Wildlife Research Super Charged Scent Killer Spray, 24-Ounce


Sports (Wildlife Research Center Inc.)




Super Charged Scent Killer Spray For Hunting Clothing and Boot Bottoms
Highly effective on a wide variety of odors
Odorless Formula - No Odor to Scare Your Trophy Buck
Continues to work for days after drying
When fully treated, your hunting clothes can effectively become a high powered scent elimination suite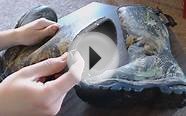 lacrosse alphaburly rubber boots best rubber hunting boots ...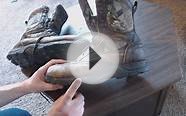 danner pronghorn hunting boot best hunting boots ive ever ...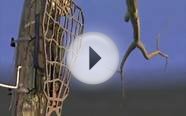 Best Tree Stand For Hunting Elk