Bowhunting Elk Colorado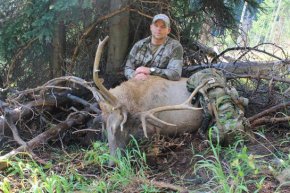 Anything can happen when you head into the backcountry for two weeks on an elk hunt. This year's hunt was no different and all the physical and mental challenges that I've come to expect were in full force.
We started the hunt off with a 3.5-mile hike and the rain seemed to start the moment the truck door opened at the trailhead. It lasted for the next three days. The good thing about bad weather is that it seems to always push elk into a rut frenzy. The storm front was just what we needed to kick the bulls into gear.
On the third evening of our hunt my partner and I set up on a meadow that was surrounded by dark timber. It was early in the evening, but we hoped that the storm would get a bull to respond a little earlier than normal. At 6 p.m. we did a short sequence of cow calls and bugles. Then the mountain came alive. There were 3 bulls hanging out 400 to 600 yards above us that bugled back immediately. I was set up about 80 yards above my partner Fred when the bulls sounded off, and he ran up to me to get a quick plan of attack together.
At that distance, we figured the chances of calling the bulls in were slim to none, so moving closer was the only option. We decided that Fred would keep calling every few minutes as I pushed forward. This would allow me to keep track of each bull as I slipped through the dog hair timber that filled the mountain above us. I moved through the timber as fast as possible and was able to close the distance to 100 yards.
I was 100 yards from what sounded like 2 bulls and several cows and Fred was 400 yards behind me. The bulls were giving an immediate response to his calls. It was a perfect set up. All I needed to do was slowly work my way up another 50 yards and give some cow calls.
Well, all hell broke loose shortly after that and my plan fell apart. As I worked my way through the timber a bull on the opposite side of the valley started to bugle every few seconds and this guy was definitely the king of the mountain.
He managed to call every elk that was on my side of the valley over to his position, and in a few short minutes, I could see several elk crossing the stream at the bottom of the drainage working toward the big boy's position. I waited a few minutes for all the stragglers to get across the creek and then got a game plan together.
I could see the bull through the patches of timber and could count at least 50 elk surrounding him. This wasn't going to be a slam dunk stalk by any means, but I had decent terrain to work with and the falling rain plus the creek bubbling below me helped cover up any noise I made.
I made quick work getting down my side of the valley and got to the creek in a few short minutes, but now it was time for the hard part.
The elk were on a bench that was in the middle of 45-degree hillside that had a mixture of grass, aspens and conifers. This was a perfect spot for a rutting herd of elk. The only problem was that I would get a few steps up the wet grass and then slide back twice as far. Luckily the grass was chest level and concealed most of my movement. Every few seconds I popped my head above the grass and tried to get a fix on all of the elk with my binoculars.
So with 35 minutes of shooting light, I closed the distance to the herd down to 65 yards. I could see at least 30 cows and 3 bulls chasing each other around the hillside and only a few seconds would go by without one of the bulls ripping off an angry bugle. I figured this was as good of time as any to sound off with my own bugle to entice one of the bulls to come charging in, so I ripped off the loudest and nastiest bugle I muster and immediately went to full draw.
The bugle worked like a charm and the entire herd worked it's way to me, but I was a victim of my own plan. Each bull had at least two cows immediately behind him. I could count a total of 38 elk in this group and they were all within 40 yards, but the chances of my arrow blowing through one of the bulls was very likely and I did not want to wound a cow.
You might also like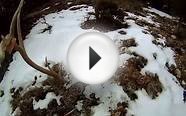 Colorado Shed Hunting ( Fresh Elk Sheds #2 )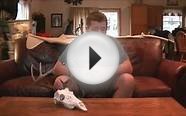 Archery Hunting Elk Colorado 2014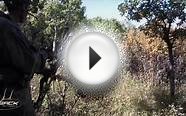 Hunting Elk with Bow In Colorado
Elk Ridge ER-134 Gentleman's Knife 3.5-Inch Closed


Sports (Elk Ridge)




Affordable for everyone
Field tested
Made using high quality materials
3.5Closed
2.75Black 440 Stainless Steel Blade
Gold Trim with Black Aluminum Overlay
Includes Gold Pocket Clip
6" I Got a New Coon Dog for My Wife Best Trade I Ever Made.printed vinyl decal sticker for any smooth surface such as windows bumpers laptops or any smooth surface.
Automotive Parts and Accessories (Beach Graphic Pros)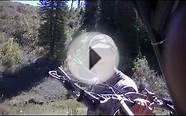 2013 Colorado Bowhunting Bull Elk
What drives us? DIY Colorado Wilderness Bowhunting Elk.
ELK HUNTER Street Sign hunting rifle bow shotgun


Lawn & Patio (SignMission)




Sign Size: 4 x 18
Brand New, Top Quality Sign
Great for Indoors or Outdoors
Proudly Manufactured in the U.S.A.
Makes a Great Gift!

Bushnell Legend Ultra HD Multi-X Reticle Riflescope, 3-9x40mm


Sports (Bushnell)




Ultra-strong, one-piece tube design that allows for a waterproof, fog proof, and shockproof scope
Most versatile 3-9x variable power and Multi X reticle makes it an ideal choice for hunting whitetails, mule deer, elk and other big game species
Features side focus parallax adjustment for adjustable long-range accuracy and a fast-focus eyepiece
ED Prime Extra-Low Dispersion glass, fully multi-coated optics bring vivid clarity and contrast, even in low-light conditions
Lenses are protected by Bushnell s ultra-effective Rain Guard HD for the clearest possible view in the face of foul weather or condensation from your own misguided...

Decal Sticker Deer Elk Hunting Durable Motorbike Speciality waterpro Matte_Silver (12 X 8.98 In)


Art and Craft Supply (___)




Sticker size is 12 X 8,98 inches. Sticker Color is Silver-Matte
Avery, Orajet 60 micron polymeric vinyl with transfer tape. Water Resistance, weather resistant.
Can be applied wet or dry. 6-7 year outdoor rating. Cannot be applied on walls or other porous surface. Stick to any clean smooth surface like glass. Cannot be applied...
New Offer. discount when shoppers purchase 5 or more. Purchase 5 and you will get 6. Purchase 10 and you will get 12. Purchase 20 and you will get 24.
Popular Q&A
What is the population of elk in Colorado.
There are around 229000 elk in Colorado. Thanks for asking