Colorado archery Elk hunting Outfitters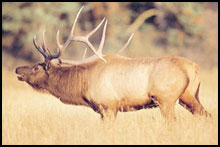 ARCHERY & MUZZELEOADER HUNTS
Bugling Bull Elk and the high country are an awesome combination that's hard to imagine, and if you've never experienced it, you should. You will pursue rutting bulls during the breeding season, when their eerie bugling fills the mountain air and they become the most vulnerable. Stalking and calling these elusive animals you can sometimes bring them as close as a few yards or even feet, allowing you a clear shot. These up close encounters are some of the most thrilling and exciting hunting action you will ever experience.
Colorado's archery season begins the last Saturday of August and runs through the last Sunday of September, providing many opportunities for the archery hunter. Either sex tags are through the lottery and currently take 0 preference points. If you don't want to burn your points you can apply for a 1st choice preference point and a 2nd choice GMU #54 tag and get them both.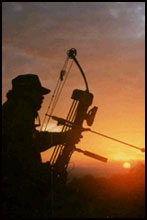 Muzzleloader season takes place the third week of September during the rut, providing the cap and ball hunter a tremendous opportunity to harvest a mature bull elk. Either sex tags are available through the lottery only, and currently takes four years to draw.
These hunts take place during the pre-rut and rut when the mature bulls are sparring and building their harem of cows. The action really picks up when these dominate herd bulls are battling and fighting to protect their established harems and breeding areas from those pesky satellite bulls.
These archery and muzzleloader hunts are unbelievable, in your face, up close and personal encounters, that will rattle the nerves of even the most hardcore whitetail hunter. So, if you're tired of sitting in your tree stand waiting for a buck to walk by, and you'd like to experience the ultimate hunting rush, give us a call to book one of these heart pounding hunts.
FULLY GUIDED 7 DAY TRIP / 5 DAY HUNT PACKAGE
ARCHERY - $3, 300.00 * MUZZLELOADER - $3, 800.00
DROP CAMP 10 DAY TRIP / 8 DAY HUNT PACKAGE
EITHER SEASON - $1, 700.00 PER PERSON
* COST DOES NOT INCLUDE TAGS *
* ALL INCLUSIVE – NO HIDDEN CHARGES *
* COST DOES NOT INCLUDE GRATUITIES *
My dad and I have been self-guided and outfitted archery elk hunters for 4 years, and have always been a bit "wary" of outfitters, until we shopped and found this outfit. WOW, are we glad we did….it's much more than a hunt, it's an experience. High country, great people, great accommodations and food, BIG bulls, shots and shot opportunities like we've never had before. Thanks Tenderfoot. We'll be back next year, and the next year, and the next!!
- Dr. A Ochsner, IL
You might also like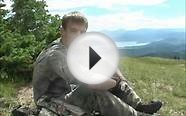 Colorado Archery Elk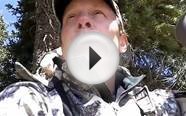 Solo DIY Colorado Archery Elk Hunt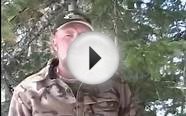 Colorado Elk Hunting with Elkhorn Outfitters
Heart Antlers For Hunters Who Hunt Buck In Colorado Elk - Unisex Tshirt


Apparel




If unsure on sizing order larger, not smaller to ensure good fit. Guaranteed not to wash off or fade
Sizing to 5XL!! Chest width (inches): S=18; M=20; L22; XL=24; 2XL=26; 3XL=28; 4XL=30; 5XL=32
Super Fan Shirts is an Amazon Registered Brand. Our quality Tshirts are 100% pre-shrunk cotton.
Custom printed in USA using professional Direct to Garment printers, NOT cheap vinyl heat transfers
Super Fan Shirts are the only authorized seller, to ensure sizing matches and quality guarantees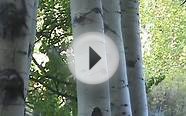 Archery Elk Hunting Colorado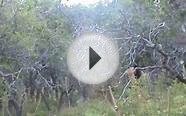 Archery Colorado Elk Hunt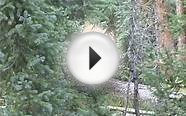 Colorado Archery Elk Hunt