Colorado Mule Deer Hunting Outfitters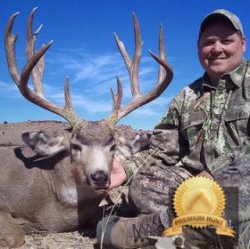 This 32, 000 acre ranch on the Colorado Eastern Plains is managed for quality Colorado mule deer hunting.
This outfitter has taken seven mule deer over 200″ on this ranch. This is a classic "looking over big country and finding your buck" type hunt.
I have hunted multiple times with this Colorado Mule Deer Hunting Outfitter and he is the real deal. Expect to see some great mule deer on this ranch." ~Marc Warnke
The Las Animas Ranch is located in Southeastern Colorado Eastern plains. This is rim-rock country, with lots of river bottoms. At 6, 000 feet this is a low elevation hunt in a semi arid region. It generally takes 1 preference point to draw this tag but the outfitter very often has access to landowner permits as well. You will see good bucks on this hunt that average 180″.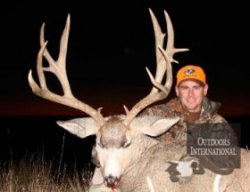 This outfitter only pulls a few bucks a year off this ranch to manage for high trophy quality. If your looking to take a buck that is worthy of the wall, call us for more information on this hunt. (208) 991-HUNT
Colorado Mule Deer Hunting Season
This ranch has two rifle Colorado Mule Deer Hunting seasons, the end of October and the first week of November.
Hunting Method
Start early to be in the hunting area prior to first light. Hunting will be from trucks, Bad Boy Buggies and on foot to get to high points for glassing. Once a good buck is spotted, hunting will be by spot and stalk. Physically, this is a super easy hunt, 6000 ft eleveation in rolly hilly, canyon country and most bucks are shot very close to vehicles. This is a great hunt for a handicap hunter.
Opportunity Rates
75%
Trophy Quality
Trophy quality on these Colorado mule deer hunts is VERY good. Hunters can expect to see 180″ class mule deer bucks, with the potential to see bucks over 200″. They have taken 7 deer over 200″ on this ranch.
Travel
Flying into Colorado Springs (COS) is the easiest way to get here. The Outfitter will pick you up at the airport if needed and provides all travel during the hunt.
Accommodations
While you are Colorado mule deer hunting, you will stay in a Hotel in Las Animas, Colorado. Breakfast, Lunch and Dinner are provided.
Hunt Reports for this Outfitter:
You might also like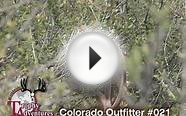 WTA Colorado Outfitter #021_Mule Deer_3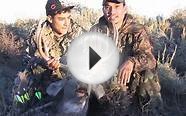 Colorado Archery Mule Deer Hunt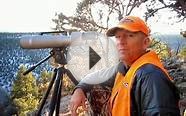 Colorado Rifle Mule Deer and Elk Hunt with Colburn and ...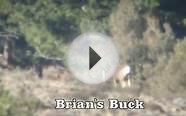 Colorado Rifle Mule Deer Hunting with Colburn and Scott ...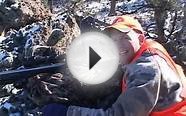 Darrs Colorado Rifle Mule deer Hunt with Colburn and Scott ...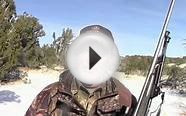 ArizonaTrophy Mule Deer hunting with Timberland Outfitters
Popular Q&A
When do mule deer begin to rut in colorado.
The peak of the mule deer rut generally occurs in late November and early December in much of the mule deer's range.
Where can one learn to go mule deer hunting.
The only people who can learn to go mule deer hunting are people who are hunters and have hunting licenses. They must have a hunting licenses and a gun permit first before they can learn to go mule deer hunting.