Colorado Elk hunting University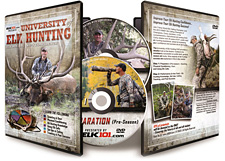 Would you like an opportunity sit down and "pick the brain" of an immensely successful public land elk hunter that has over 25 years of experience, numerous trophy bulls to his name, and is also a 7-time World Elk Calling Champing, as well as the 2013 RMEF Elk Calling Campion of Champions?
That's exactly what it's like to sit down and watch . In this two-disc set, Corey Jacobsen shares how he is consistently successful across decades of "do it yourself" public land elk hunting.
Don't miss the GIVEAWAY below!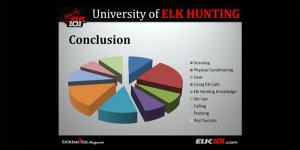 This DVD set isn't a sales pitch that makes any bogus promises. Corey isn't pretentious; despite his impressive track record, there's no ego. He doesn't think there is a secret formula for success. In fact, he is quick to say,
"Unfortunately you can watch all of the DVDs you want; you can read of the magazines, and all of the books. You can watch all of the hunting shows you want to. Nothing is going to take the place of 'in the field' experience."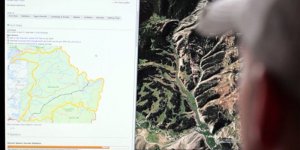 The University of Elk Hunting DVD is all about building your confidence to be more successful. The material covered will help you shorten the learning curve, give you more perspective and understanding while in the field, and help you make more informed and effective hunting decisions.
Preparation & Performance
The first disc addresses Preparation. Topics covered include scouting, physical conditioning, gear, and the use of elk calls.
The second disc focuses on Performance. In this disc you will learn elk hunting knowledge, how to setup on elk, calling tactics, tracking, and what to do after the shot.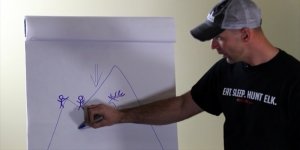 These DVDs provide a high-level, "A to Z" approach to elk hunting. But at the same time, there's plenty of "meat" to the content, too. For example, Corey doesn't just tell you to look at maps as a scouting source – he actually shows you how to use them, what specific things to look for in satellite imagery, and how to read terrain and cover to predict elk behavior.
One of my favorite sections is "The Setup" on Disc 2, where Corey literally draws out common elk hunting "plays" – much like a football coach would with "Xs and Os" for his team. Corey makes it easy to understand how to effectively use the wind, setup with a calling partner, and use an elk's instincts in your favor.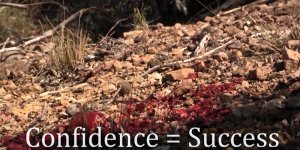 Despite his impressive competition calling resume, Corey sticks to teaching what works for elk hunters – the necessary calling fundamentals. He takes the time to dissect how a diaphragm call works, where you should place it in your mouth, and how things like tongue pressure and air flow affect calling sounds. The sections on physical conditioning and what to do after you shoot an elk are equally practical and helpful.
There is over 2 hours of content in, and I found every bit of it worthwhile. I purchased this set after my first two elk hunts last year, and I think it is a great addition to what I had already learned in my years of study and planning.
If you're an elk hunter, or thinking about hunting elk one day, this is a must-buy!
Giveaway!
After purchasing this DVD on my own for the purpose of a review, I decided to reach out see if Corey would be willing to give one away to you – the reader. He was happy to do so, and here's your chance to win this two-disc set…
Womens High Heel Leather Shoes Metal Buckle Lace Up Side Zipper Black Mid-calf Warm Martin Boots EU39


Shoes




The size chart below,Inch is foot length.Women Size:EU34=US22CM,EU35=22.5CM,EU36=23CM,EU37=23.5CM,EU38=24CM,EU39=24.5CM,EU40=25CM,EU41=25.5CM.
Style:Casual Boot with fashion design. Size:euro 34-39. Color:black,beige.
SOLE THICKNESS: 9CM,UPPER: 10.5CM,PLATFORM: 2CM.All the data information are made by handdipping,subject to the ankle boot when you get.
IN THE END: COTTON MATERIAL MIDSOLE,INSIDE OF: COTTON MATERIAL INSIDE.
The soft material has a natural texture with good permeability and flexibility.The fashion design of side zipper makes shoes easy to wear.
WOFALA Samsung Galaxy Tab A 8.0 Case - Ultra Slim Lightweight Smart Cover Stand Case With Auto Sleep/Wake Feature For Samsung Galaxy Tab A Tablet (8.0 inch Display, 2015 Version)-Black
Baby Product (WOFALA)
Built-in magnetic strip provides sleep/wake feature. Specifically designed for samsung Galaxy Tab a 8.0 Tablet 2015
Premium synthesized leather exterior and soft interior to prevent scratches; All corners are protected; Full access to all features (Cameras, Speaker, Ports and...
Built-in flip stand with multiple viewing angles; Built-in elastic hand strap
Cover will fold horizontally as a versatile stand to enjoy typing, emailing, gaming or video watching
Ultra slim and light weight, convenient to carry with
Popular Q&A