Colorado Elk population map
I have been researching areas in the western states for an additional out of state elk hunt. Since I have gathered the data, I thought it would be interesting to see elk harvest data from the different states all in one place.
The table below was compiled from most recent data available from each state's harvest report. All harvest data from all states has been updated for the 2012 elk hunting season.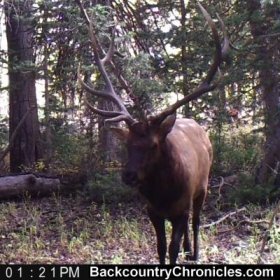 Washington State data has finally been updated for 2012 and the increase in the number of elk harvested between 2011 and 2012 moved Washington ahead of Arizona.
The Oregon elk harvest data has now also been updated and increased from to 17, 455, up from 13, 272 in 2011. The number of hunters also increased from 83, 835 in 2011 to 103, 176 in 2012. Success increased slightly from 16.0% to 16.4%.
Utah harvest data is the last to ben updated for 2012. The elk populations is still growing in Utah and more permits are being issued so more elk are being harvested. The updated data shows the increased elk harvest for total elk harvested in 2012 and success in Utah rose to 27.5%.
The table is ranked by highest total elk harvested to lowest.
Table 1. 2012 Total Elk Harvest from 11 Western States
State
Bull Elk
Cow Elk
Total Elk Harvested
Total Hunters
Success
Avg. Days Hunted
Colorado 22, 208 19, 192 43, 490 215, 326 20.0% 5.1 Wyoming 11, 649 14, 716 26, 365 57, 331 46.0% 8.1 Idaho 17, 109 9, 119 26, 269 153, 076 17.2% 5.8 Montana 10, 452 9, 098 20, 550 102, 861 20.0% 8.6 Oregon 10, 963 6, 492 17, 455 103, 176 16.4% 6.0 Utah 7, 683 8, 649 16, 332 59, 175 27.5% 5.3 New Mexico 6, 567 5, 101 11, 668 25, 929 37.0% ??? Washington 4, 945 4, 217 9, 162 67, 950 13.5% ??? Arizona 3, 965 4, 205 8, 170 23, 069 35.4% 5.4 Nevada 943 1, 516 2, 459 5, 863 41.9% ??? California 126 110 236 375 62.9% ???
Bull Elk include all Antlered Elk including Spike Elk if the state keeps separate records. Cow Elk includes all Antlerless Elk, which includes both cows and calves. California reported 22 elk were harvested from five either sex elk hunts, but did not report which sex was taken, so I assumed that 11 bulls and 11 cows were harvested.
Total Elk Harvested, Total Hunters, Hunter Success and the Average Days hunted includes the harvest of all elk from all hunt seasons in all units by all hunting methods. Average Days hunted is the average of all hunters, not just successful hunters.
Most Elk are Harvested in Colorado, Wyoming, Idaho and Montana
Colorado had the largest elk harvest, as they should since they have the largest elk population, but there were also twice as many hunters in Colorado as any other state. In fairness, Colorado has lots of different seasons, so hunting pressure is spread out. Wyoming is ranked 2nd, just ahead of Idaho and followed by Montana in 4th place. at close third, but Idaho has almost twice as many hunters as Wyoming and Montana has about 45, 000 more hunters. Wyoming claims an amazing overall 46% success rate (including OTC tags).
Oregon, Utah and New Mexico were fairly close 5th – 7th place. In this group, the success rate is lowest in Oregon at 16%. Success is very high in New Mexico, but remember all elk tag in New Mexico are limited entry. Utah is looking pretty good with a 22% success rate which includes thousands of OTC tags.
Arizona and Washington are a close 8th and 9th place, but in Arizona all but a hand full of elk are harvested with limited entry tags. Washington has many OTC tags, but hunting in Washington must be tough since the overall harvest success is only 10.3%.
California and Nevada have the Least Elk
California and Nevada had the least total elk harvested and both states have only limited entry tags. I was surprised at how few elk were harvested in California. From looking at current elk range map, it appears that California has much more elk habitat to support a much larger harvest than a mere 236 elk. California issued only 375 tags for 81 hunts in 25 units.
I don't ever plan to hunt elk in California, but am curious as to why there are so few elk, especially in Northern California, because roughly the same area of elk habitat in adjacent areas in southern Oregon produced nearly 1, 800 elk harvested in 2011.
Hello from Bondad Colorado, Population About 30 and Growing Original Vintage Postcard


Entertainment Memorabilia (Kontinental Kards)




Categories: Animals,Multiple Animals
Type: Chrome
Size: 3.5 x 5.5 (9 x 14 cm)
Publisher: Kontinental Kards
Popular Q&A
What is the elk population in Meeker Colorado.
Meeker, Colorado, has a staggering population of 30,000 elk! Thank you for using