Elk hunting Guides in Colorado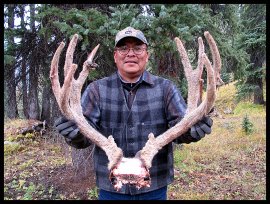 | | | | |
Lambert's Highcountry Blackpowder Buck
Elk and Mule Deer Hunts...
Hunting is what we do best. Hunting is what Over the Hill Outfitters is founded upon. We live to hunt. If hunting is what you love to do, this trip is for you. There is nothing quite like being in the high wilderness after a three inch snow, tracking a small herd of elk through the whiteness, knowing that they are just across the next ridge. Your heart beats, your nose filters the air, your eyes scan every inch of the horizon. You are as alive as is possible. You are in the hunt.
We specialize in full service, guided elk hunts in Southwest Colorado's Weminuche Wilderness.. Most of these take place in the Florida River Basin where we hunt the subalpine to alpine environment surrounding timberline. This is a huge area where you can hunt for five days without ever hitting the same place twice. However, we hunt wherever the elk are. That's the golden rule of hunting: always hunt where the elk are. We know the Florida River Basin better than anyone. We are in the area from the time the snow lets us, till the snow drives us out. Sometimes longer. There is a resident herd of approximately 600 head of elk who do the same.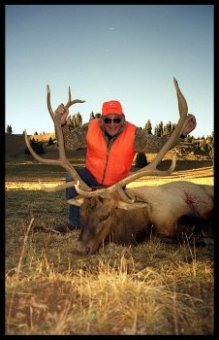 Frank's 6X6 Rifle Bull
Riding from Camp before First Light
Our camps are similar to those of our Pack Trips, with woodstove heated wall tents, cots with pads to sleep on, and a chef to prepare incredible meals. Everything is provided except for your personal and hunting gear. We strive to meet your every need within the realm of the wilderness area that we are visiting.
All of our hunts are strictly first class with one guide for each hunter to maximize your opportunity for success. Other options are available. Our guides join us because of their love of hunting. They are skilled in horses, outdoor living, people skills and of course hunting. We at Over the Hill Outfitters have overwhelming pride in our guides. We can assure you that they are of the highest quality and are dedicated to providing you with the best hunt possible.
Archery Hunting...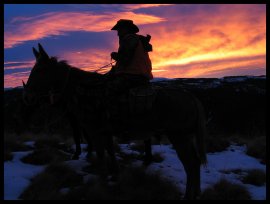 Paul's 6X6 Archery Bull with Guide, Randy
Our favorite hunt is the Bow Hunt. This is quintessential hunting where man and animal are engaged in the ultimate experience of nature. This is the most exciting time to be immersed in the hunt. The elk are in rut, the weather is a little bit nicer (usually) and there are a lot less hunters out. The elk are often in larger herds. A herd of 300 elk may not be the easiest to hunt, but it is something to behold. Join us at Over the Hill Outfitters for the bow hunt of a lifetime. You won't regret it.
Tommy's 6X6 Archery Bull
Paul's 6X6 Blackpowder Bull
Blackpowder Hunting...
The same can be said of the Black Powder Hunt. It too is one of our favorites, with the season coinciding with the archery season. This time of year the elk are generally in the rut adding excitement and the ability to call in bulls. This hunt is a test for the primitive weapon hunter and one of the most enjoyable hunts that we offer.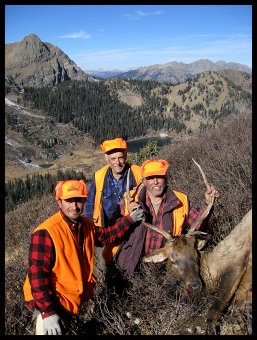 Ricky's 6X6 Blackpowder Bull
Syd's 4X4 Rifle Bull
Rifle Hunting...
The combination rifle season is the highlight of the year. This is the hunt we've all been waiting for. Often times the elk are still in the tail end of rut, letting us know where they are. Other times they know that they are being hunted, making this truly a hunt. Either way, we aim to provide you with the best possible hunt. Come join us. We know you will be glad you did.
Rick's 4X4 High Country Rifle Bull
Richard's 5X5 3rd Season Rifle Bull
Ronnie's 5X5 High Country Rifle Bull
John's 5X5 4th Season Rifle Bull
Hunting in the Emerald Lake Basin
Richard, Janet & Sam's 6X6 Drop Camp Rifle Bull
Drop Camps...
We also provide drop camps for hunters. These have similar equipment to our full service camps with woodheated wall tents, cots, pads and cooking equipment. You must provide all of your food, personal items, and hunting gear. There are no horses left in camp, but we will check on you every other day. If you want the hunting experience without the guide, this may be for you. We can also provide a cook if you desire.
Packing Service...
5X5 Pack Service Bull
Melanie's Merriam's Gobbler from the Ranch
Spring Turkey Hunts...
Turkey hunting in the spring will test out your hunting skills, many which crossover with elk hunting. These wary gobblers respond to a call much as a bull elk does to a bugle. We put limited hunting pressure on these birds which makes them responsive to the call. Join us as we hunt for a Merriam's Turkey on the 1200 acres of the Palmer Ranch or out in the San Juan National Forest and enjoy a truly special time of year in the woods.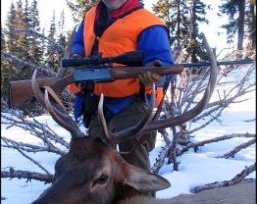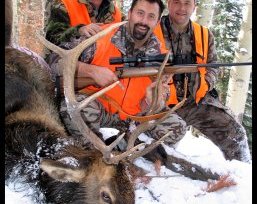 You might also like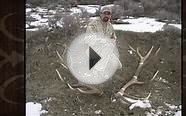 How To Score An Elk Using The Boone & Crockett System ...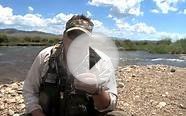 Colorado Fly Fishing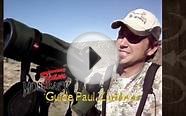 443" and 403" MONSTER Archery Elk Hunts (Free Range ...
Deer Hunting for Beginners: The Ultimate Guide to Getting Started Hunting Deer: Tactics and Strategies for Tracking and Bagging Deer in North America (Happier Outdoors)
eBooks