Hunting Guides in Colorado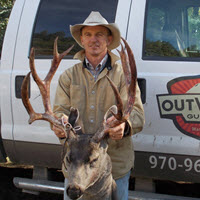 Colorado's Premium Big Game Outfitters
We are Colorado elk & mule deer hunting guides. OutWest Guides offers quality wilderness elk & mule deer hunts from horseback. Chances of connecting with branch-antlered bulls are excellent, and our mule deer are world class. We offer drop camps, semi-guided hunts, fully guided wilderness hunts, and comfortable lodge hunts! In recent years we have seen our elk herd grow an increasing number of sizable bulls, and the numbers of elk in our area are terrific.
Wilderness hunting
Our elk and mule deer hunts are fair chase hunts in a wilderness setting. We outfit in the rugged Maroon Bells/Snowmass Wilderness area surrounding Marble, Colorado, in the southern part of Game Management Unit 43. Our wilderness camps are accessed only by foot or by horseback. There is no ATV access to any of our camps. Our camps are stout wall tents with wood stoves, cook stoves, cots, floors, and as comfortable as we can make it when everything is packed in on horseback.
Trophy mule deer hunting
Our wilderness mule deer hunts offer an excellent chance at a 26"trophy buck scoring in the 170 class or better. We scout the high-country bucks and know where to find the big boys. Those lucky hunters who draw a Maroon Bells/Snowmass Wilderness tag for Unit 43 should give us a call. Another terrific hunt is a wilderness muzzleloader hunt for mule deer. Our wilderness hunts are challenging, physical hunts in a gorgeous setting. We suggest our high-country hunts for hard-core hunters who are in good physical condition and want to hunt hard for an outstanding trophy mule deer. Keep in mind that all deer tags are obtained by draw only. With that said, we have access to land owner vouchers which you can buy.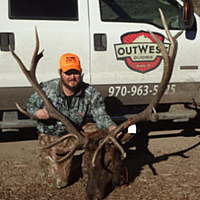 These vouchers allow you to buy a tag with no preference points and no waiting for years.
Lodge Hunts
Some of our hunters really enjoy "roughing it" in a wilderness tent camp. Other hunters like the comforts of home. For those of you who want a hot shower, a home-cooked meal, and watch a movie in the evenings, our lodge hunts are for you. The success rate for our hunters on our lodge hunts is about the same as for the guys who choose the wilderness hunts. We keep horses in our corrals in Marble, saddle up in the dark, and we're on the trail before daylight. Our hunters who want to put some meat in the freezer have great success at harvesting cow elk on our lodge hunts.
Our hunter intro packet has a wealth of information on our Colorado elk hunts, from license applications and season dates to a list of elk hunting gear, how to care for meat, and much more. Request a copy of our hunter intro packet via email or call us at the number below.
Bring along a 12 – 19 year old on your hunt and receive a 20% discount on the price of the youth's hunt! Call today for more info.
Tags are not included for any hunt. Contact us for help with tag info. We hunt Unit 43 in CO.
1st RIFLE Season (Elk only) Oct 15-19, 2016
2nd RIFLE Season (Elk & Deer) Oct 22-30, 2016
3rd RIFLE Season (Elk & Deer) Nov 5-Nov 13, 2016
4th RIFLE Season (Elk & Deer) Nov 16-20, 2016
Elk (bull, either sex) – $604
Cow elk – $454
Deer (either sex) – $364
Bear $354
(Subject to CDOW increases)
Tags are not included for any hunt. Contact us for help with tag info. We hunt Unit 43 in CO.
Be sure to submit your draw application before April 5, 2016
You might also like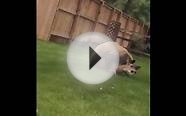 Bear Takes Down Deer in Colorado Man's Backyard [VIDEO ...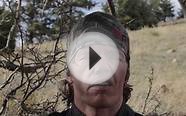 2015 Colorado Spring Turkey Bow Hunt - Part 1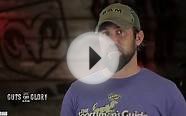 Zac Brown Hunts Elk In Colorado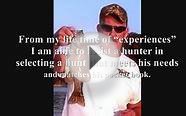 Elk Hunting Colorado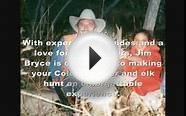 Elk Hunting
Popular Q&A
Why do people train hunting dogs?
People today, often train hunting dogs for FUN and hunt for FUN! Sadly they do not need the food but do so for TROPHIES hanging on their walls. But don't blame the dog, he is just being loyal to what his owner has trained him. :(
How to Train Your Dog to Hunt.
Ever been waterfowl hunting with a bird dog? There is nothing quite like hunting near a lake on a frozen winter day, shooting a duck, and have your dog swim out in the near freezing water to collect your prize, and swim back to shore with duck in his mouth. Let's face it: all serious waterfowl hunters understand and appreciate the convenience and rewards of a hunting partner with four legs. With the proper training your dog will not only be able to help you successfully hunt waterfowl, it will also serve as an obedient, loving, lifelong friend. If you want to fill your hunting bags with…