Hunting Mule Deer in Colorado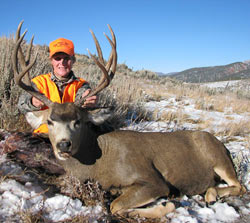 Rifle Mule Deer Hunting
Our success rate is typically 100% on mature mule deer bucks! Mature mule deer bucks are hard to come by in this day and age, and we take pride in our mule deer here at Nine Mile. We manage our herd strictly for mature bucks. Our deer hunts are limited to ensure that plenty of quality bucks will be here for you and for hunters in years to come. Our bucks average 24"-29" with many scoring between 150" and 180." Larger bucks are possible on any day on any of our leases. Typically, our bucks are all 4x4's or better, with great mass and often a sticker or two somewhere on the rack. Our deer herd is healthy with a good number of bucks to choose from. It's not uncommon for a hunter to pass on a dozen or more bucks during a hunt waiting to find just the right one. The chance at a true monster is around every corner for those who have the willpower and patience to hunt them out.
We usually have a few landowner deer vouchers available on a very limited basis. Since the number of vouchers we receive is limited and changes from year to year, we encourage you to apply for preference points if you are planning on hunting deer with us in the future. If you already have preference points and are applying for a deer license for the current year's hunt, you will have to use the points and select the deer license as your FIRST CHOICE as "leftover licenses" are now a thing of the past and our access to landowner vouchers is not guaranteed. There are NO ELK landowner vouchers available to us at this time.
Wounding Policy:
If you wound an animal (draw blood), every attempt will be made to recover the animal. If it is not recovered, then your hunt will be over.
You might also like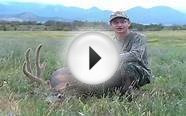 Guided Trophy Mule Deer Hunts in Colorado with West Elk ...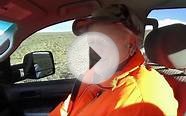 244" Colorado Mule Deer Hunt - Guinn Crousen - Muley ...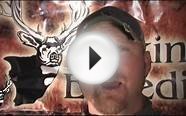 Trophy Mule Deer Hunt in Southwest Colorado
GamePlan Gear Spot-N-Stalk Quiver Pack, Realtree AP


Sports (Gameplan Gear)




Fully-adjustable quiver attachment (quiver not included)
Grab handle for spinning pack around quickly to front
Zippered rangefinder pocket for quick access
Adjustable shoulder strap with release buckle
Interior pockets organize all your gear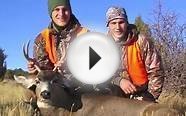 Colorado 2011 Mule Deer Hunting (Unit 62 Third Rifle) - 5 ...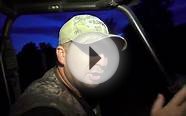 Team Primos is bowhunting Mule Deer in Colorado PTAH 1422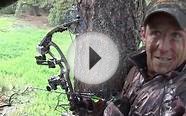 Archery Mule Deer Hunting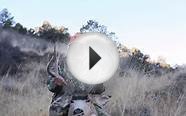 Hunting Rutting Bucks: Colorado Mule Deer Hunt 2014 AWESOME!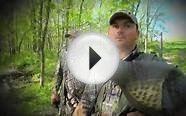 Early Season Colorado Mule Deer Hunting -Primos Truth ...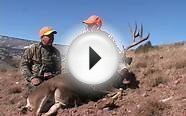 Rifle Mule Deer Hunt in Colorado with Jay Scott
Popular Q&A