Elk hunting rifle Colorado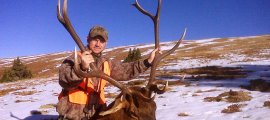 Join us at AEI Guide and Outfitter for your Rifle elk hunt in Colorado! Since 1984 AEI Guide and Outfitter has been guiding rifle elk hunters through the Colorado high country for the ultimate encounter with a monster bull elk.
Rifle Hunting and Guide Options
We are prepared to hike with you deep into wild game habitat or to set you up in established stand sites. Our guides will ensure you a first class hunt. If you are fortunate to harvest an animal, your guide, along with AEI Guide and Outfitter staff, will field dress and pack out your trophy for you. Gunnison offers quality meat processing and taxidermy services to get your trophy ready for travel.
Fully-Guided
Our fully-guided archery rifle hunts give you the opportunity to hunt one-on-one or one-on-two with an experienced Colorado elk guide. Our guided hunts offer you the best chance at success in the field.
Semi-Guided
The semi-guided hunt allows you to hunt on established stands on both private and public lands. We have over 40 stand sets composed of raised box blinds, ladder stands and step stands. We hunt over established elk travel corridors and feeding areas.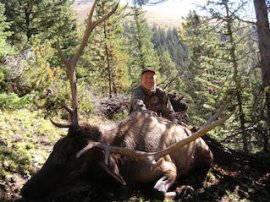 Non-Guided or Self-Guided
For more experienced hunters, the non-guided hunt is another option. Be prepared to accept the challenge of the unpredictable Rocky Mountain weather and hunt hard from dawn to dusk. With this hunt option, we take care of food, lodging and pack-out services and we will look over maps and point you in the right direction, but you are on your own out in the elk woods.
Rifle Elk Hunting Rates 2016
5-Day Hunting Packages
First Rifle Season: October 15 - 19, 2016
Guided Semi-Guided Non-Guided
1 X 2 , 900 per gun , 800 per gun , 800 per gun
1 X 1 , 400 per gun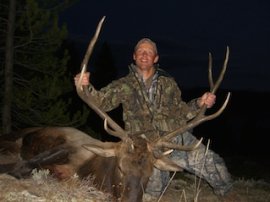 GUIDED HUNT GROUP RATE Minimum 4 hunters , 600.
Non-hunters are welcome @ 0 per person.
Second Rifle Season: October 22 - 26, 2016
Guided Semi-Guided Non-Guided
1 X 2 , 700 per gun , 800 per gun , 800 per gun
1 X 1 , 200 per gun
GUIDED HUNT GROUP RATE Minimum 4 hunters $3, 400.
Non-hunters are welcome @ $750 per person.
*Prices do not include license fees.
*All hunts require a deposit of 1/3 the total cost of the hunt.
Application & Licenses
First Season Rifle Licenses are available by drawing only. The drawing deadline is the first Tuesday of April each year. If you apply for this bull tag with 0 points you will have a 30% chance of drawing the tag. You will draw the tag if you have 1 preference point. Second Rifle is over-the-counter. Applications are available through the Colorado Division of Parks and Wildlife. You can apply for your tag online or call to request an application. We can assist you in this process upon request.
Reservation
To make a hunt reservation, we require a deposit of one-third the total hunt cost. The second payment is due by June 15 and final payment is due 30 days prior to the start of your hunt. Deposits are non-refundable. Please be aware that any person born in 1949 or after must have a current Hunter Safety Card to purchase a hunting license in CO.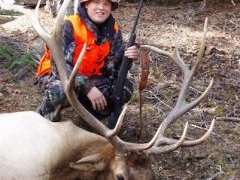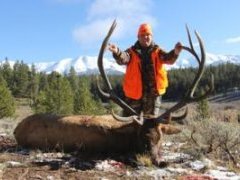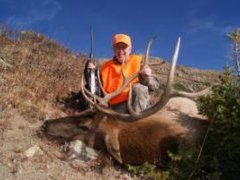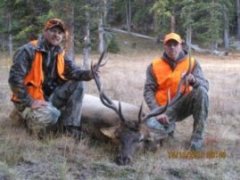 You might also like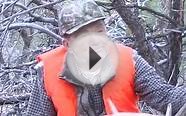 Rifle Elk Hunt Dale Judd - Teterhorn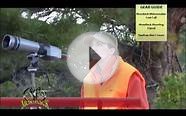 San Juan Rifle Elk Hunt - Tamra Lundin - MossBack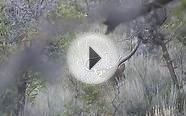 Rifle Elk Hunt Kenny Rhodes 392 B&C Bull - Teterhorn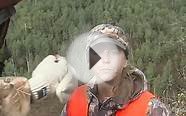 Rifle Elk Hunt Shannon Valdez - Teterhorn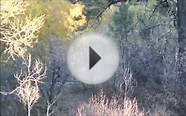 Scouting for elk - preseason elk hunt Colorado rifle 09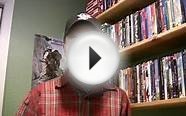 Rocky Mountain Meat Hunter: Colorado Elk Rifle Hunting