Colorado big Game license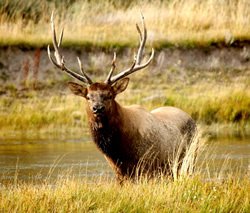 For elk hunters who missed the draw or failed to draw their first choice, over-the-counter elk licenses offer the opportunity to hunt bull or cow elk during the archery season or bull elk during the second and third rifle seasons in many game management units in Colorado.
Colorado's elk population is larger than any other herd in North America. With roughly 283, 000 elk, 23 million acres of public land and elk seasons that run from August through January, Colorado offers a tremendous variety of hunting opportunity. Last year, more than half of the bull elk harvested in Colorado were taken by archery and rifle hunters with over-the-counter tags.
Colorado is the only state that offers non-residents and residents the opportunity to purchase unlimited over-the-counter licenses for bull elk. In a select number of units, archery hunters can purchase both an unlimited over-the-counter bull tag and an over-the-counter antlerless elk tag.
Hunters with questions about what licenses they can purchase and where licenses are valid can find more information on-line or by phone with one of the new Colorado Parks and Wildlife Hunt Planners at (303) 291-PLAN or (303) 291-7526. Hunt planners are hunters themselves and well versed in the opportunities available around the state.
A small number of antlerless, or cow, over-the-counter rifle licenses are also available for game management units 25 and 26, which are located north of I-70, approximately between Gypsum and Yampa. The number of these licenses is capped, so they are available on a first-come, first-served basis.
Archery, muzzleloader and some rifle bear licenses are also sold over-the-counter with a cap. That means that there are a preset number of these either-sex licenses available on a first-come, first-served basis. Hunters who wish to obtain one of these licenses are advised that they generally sell out within days. Some bear units sell out in minutes.
Anyone who wants to hunt bears during the regular rifle season must hold a deer or an elk tag for the same manner of take, the same season and the same unit in which bear will be hunted. To properly manage bear harvest, all bear licenses for Colorado are area specific and limited in quantity.
More info:
Availability of over-the-counter licenses that have limited cap numbers can be viewed on-line at Once sales begin, the "OTC Cap License List" will be updated every 15 minutes in an effort to continually inform hunters and license agents how many are left during the rush.
Bubble Guppies Game, 10.5 x 10.5"


Toy (University Games)




See your little ones and their friends delight in the awesome University 10.5-Inch x 8-Inch Bubble Guppies Game
Kids will love this underwater world game of sorting, mixing, memory and matching using the 4 double-sided game boards
Promotes social skills, cognitive thinking and visual discrimination; collect tokens from each area and be the first one home to win!
Popular Q&A
How possible is it to obtain a CO license?
While I agree with the first answer given, my strong suspicion is that if you move to a Western state, it may not be in the interstate compact regarding driving privileges. However, there is no way for me to know without being in CO.
I recommend you hire an attorney in CO NOW and ask ahead of time. There's no sense in moving yourself to CO and then asking. Find out beforehand and if not, then check a number of other states on the west coast or in the south to find out if any of them will allow you to finally get a license after a lifetime bar from MA.
Good luck.