Colorado waterfowl season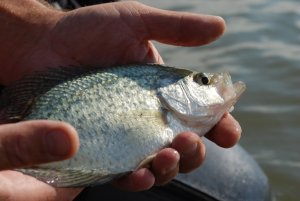 Teal, Doves and Crappie: Three Reasons to Visit Colorado's Eastern Plains in September
Wasps, spiders, sunburn, allergies, rattlesnakes, mosquitoes and chiggers are just a few of the challenges you must brave. But if you enjoy a good wing-shoot and the fast-paced action of fishing for crappies, these unpleasantries may be worth tolerating to take advantage of some early season outdoor opportunities on the Eastern Plains.
Doves and teal may be two of the most challenging species to take on the wing, but hit or miss, both species have the ability to heat up a shotgun barrel.
Doves and teal kick off Colorado's fall bird-hunting seasons, with both seasons beginning in September. The mourning dove season opens Sept. 1. Hunters should read the latest waterfowl brochure for teal seasons, as these dates vary from year to year.
Teal hunting is about as low maintenance as duck hunting gets. A dozen decoys of any species placed on one of the small potholes or stock ponds near the South Platte is really all you need to have success. Adding a spinning-wing decoy to the mix increases your chance of tricking the decoy-susceptible birds.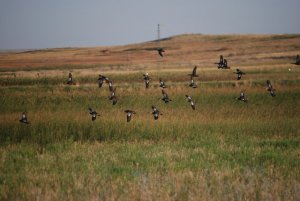 Teal hunters should also pay close attention to the weather. Cold fronts during the season will push teal south, bringing an abundance of the migratory birds into eastern Colorado. And according to U.S. Fish and Wildlife Service estimates, 2013 should be a good year for hunters.
For dove hunters, fast-paced hunts usually have three factors in common: a plentiful food source (sunflowers, millet or other grain), nearby roosting sites (dead trees being a favorite) and readily available water sources. Hunters who do some preseason scouting of state wildlife areas or Walk-In Access properties will find several spots where all three of these factors align.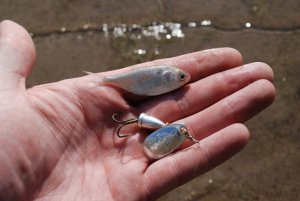 Teal and dove action will slow midday, but that doesn't mean your early season outdoor extravaganza has to be put on hold. Grab a small spinning rod and head to the Jumbo Reservoir Annex. This impoundment not only holds a few teal, but also is home to some nice crappie and smallmouth bass for you to pursue on this "outdoorsman biathlon" of sorts.
We found that crappie and bass, along with the occasional hefty bluegill, couldn't resist a silver, Blue Fox Vibrax spinner retrieved slowly, just off the fallen trees and scattered rip rap around the banks. The fish we caught varied in size, but many of the crappie were respectable slabs. Waders or a float tube will allow you to access some additional water holding fish. The action ebbed and flowed, but this fishing opportunity shouldn't be overlooked especially as the water cools in September.
If you go:
Bring sunscreen, bug spray, plenty of water and allergy medication. This part of the state can be unpleasant until the first, glorious freeze hits and knocks down some of the unpleasantness. Take rattlesnake precautions, especially with your dog. Walking or letting your dog roam around rock outcroppings or brush piles isn't a good idea this time of year.
You might also like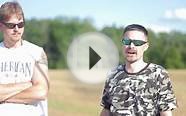 Early Season Goose Field Hunting Decoy Spread / Waterfowl ...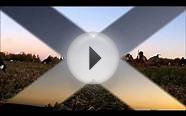 Team FFO 2012 Saskatchewan Canada Waterfowl Season
Four Seasons 26738 O-Ring & Gasket Air Conditioning System Seal Kit


Automotive Parts and Accessories (Four Seasons)




O-Ring & Gasket Air Conditioner System Seal Kit
Our products are engineered and tested to provide years of trouble free operation. Backed by over 50 years of mobile a/c experience, fix it once and fix it right...
Compatible with both R12 and R134a refrigerants
All the seals needed to complete the job
Application specific
Colorado State Flag 3x5 ft. Nylon SolarGuard Nyl-Glo 100% Made in USA to Official State Design Specifications by Annin Flagmakers. Model 140660


Lawn & Patio (Annin)




Made in the USA! This is an AUTHENTIC Annin Flagmakers flag. SINCE 1847- the OLDEST and LARGEST manufacturer of flags.  Made in our factories in South Boston, VA...
Be a Part of History!  Annin made the flag that draped Abraham Lincoln s casket, the flag raised on Iwo Jima and the US flags sent to the moon. Own a piece of history...
Quality! Expertly printed and sewn using Annin s 200 DENIER NYLON fabric in our Virginia factory with our exclusive SolarGuard(TM) dyes. PROVEN to last the longest...
Expert Craftsmanship!  Our expertise in advanced digital and screen printing uses a three step process to penetrate our custom dyes into durable weather-resistant...
Annin Presentation Box!  Each flag ships in an OFFICIAL ANNIN FLAGMAKERS presentation box.  Makes an excellent gift for family and friends to PROUDLY display at...
2015 Colorado Avalanche Team 20th Anniversary Season Logo Jersey Patch


Sports (Patch Collection)




Ships same business day if paid before 3pm Central Time
Offically Licensed by NHL
Perfect for framing
Measures approximately 4 inches in Diameter
Exact replica of patch worn on ice by the players

Colorado Baseball


Mobile Application (Appstoro)




Podcast
News
Stats
Standings

Womens Colorado Rockies Tee / T-shirt Small


Apparel (4her)




Team name & logo on front, vintage print sleeve stripes
3/4 Sleeve, crew neck
Classic fit, Mid-weight
100% cotton
S/36 Bust 25.5 Length M/ 38 Bust 26 Length L/40 Bust 27 Length XL/42 Bust 27.5 Length
Popular Q&A
What are the waterfowl seasons in Laporte, IN?
The 2010 season dates for the North Zone of Indiana are from October 16 to December 14. !
What is the fine for killing an out of season waterfowl in Indiana
Well, the best I can tell you is that it is a federal offense. A federal agent writes you a ticket and it holds a fine, they could sieze everything you have with you at the time of the offense and could even take you to jail. It is nothing to play around with.