Division of Wildlife Colorado Springs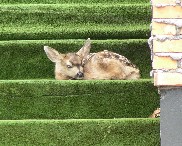 Common Urban Wildlife Emergencies
Wild Forever receives hundreds of calls every year from people who find baby animals, assume the babies are in distress and want to rescue them. In most cases, it was determined that the mother was near by and the babies were to be left to her care. It is important to remember that a baby animal's best chance at survival is with it's mother.
Rehabilitators are currently seeing a flood of animals being rescued unnecessarily, which take up resources that should be directed to the animals that need it most. Some rehabilitators are operating at capacity and can not accept any more animals. We need your help in using our resources more wisely. Therefore, we have put together some general guidelines to help you determine when you should do something to help.
As you perform your spring yard work, pay particular attention for baby rabbits as they like to hide in tall grass. Check the area before starting up the lawn mower. If you find a baby rabbit and it's eyes are open, it is self feeding and can sustain itself in the wild.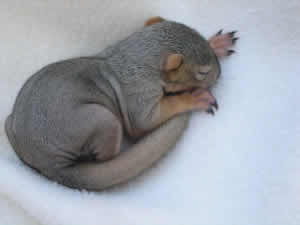 The best thing to do is leave it were you found it and keep pets and children away.
I found a baby bird, now what?
Nestling birds are either naked or covered with soft down and/or undeveloped feathers. Should you find a nestling on the ground, see if you can locate the nest, safely reach it and put the baby back. Be sure to wash your hands after handing the bird.
If the nest is not with in reach or if it has been destroyed, you can build a backup nest and put it as close to the original location as possible. Leave the area and watch for the mother bird to return. If the mother bird does not return within a short while call a rehabilitator.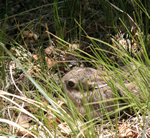 Fledgling birds have their wing feathers, but stubby tail feathers and a few tufts of down. During the first few days after they leave the nest, they are unable to fly and will hop around on the ground fluttering their wings building strength for flight. The parent birds will leave the baby alone for short periods of time but are near by.
It is not recommend that you try to rehabilitate baby animals yourself because . Rehabilitators have specific training in the care and feeding of each species of birds and mammal, disease management and are licensed by State and Federal agencies.
What Constitutes an Emergency?
An animal requires immediate help if:
It is bleeding profusely.
It is unconscious or convulsing.
It is helpless and in danger of being attacked by another animal, or has been attacked by a cat.
It has a broken leg or wing.
It has collapsed, or is staggering, or weak.
It has been burned.
It is entangled in fishing line, string, net, debris, etc. or its bill or muzzle is caught in a jar, container, plastic rings from canned beverages, etc.
It has a fish hook in its mouth or body.
It is stuck to a glue trap, fly paper or other sticky surface.
It has ingested oil, antifreeze or other chemicals.
It is covered with in oil, tar, etc.
Its eyes are crusted shut, or it appears to be blind.
It has been shot.
Its nest has fallen to the ground.
Its parent (in the case of animals that are raised by just one parent, such as hummingbirds or young mammals) or parents are known to be dead, injured or ill.
It is trapped in a vehicle or building.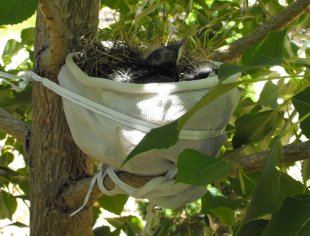 Large Animal Emergencies
Emergencies related to deer, elk, bear and mountain lion should be directed to the Colorado Division of Wildlife (DOW). Residents of Colorado Springs and the greater Pikes Peak region should contact the DOW's Southeast Region Service Center: Colorado Division of Wildlife
4255 Sinton Road
Colorado Springs, CO 80907
(719) 227-5200
After Hours Animal Emergencies: The Colorado State Patrol Communications Center is your point of contact for after hours (evening and weekend) emergencies. Call (719) 433-2424.
Domestic Animal Emergencies
Humane Society of the Pikes Peak Region 610 Abbott Lane Colorado Springs, CO 80905 Phone: (719) 473-1741 Fax: (719) 444-0179
Deceased Animals
You may dispose of deceased animals on private property, but be sure to use protective gear such as gloves and plastic bags. If you think a deceased animal may be diseased (e.g., rabies, hanta virus, avian flu), please call the El Paso County Health Department at (719) 578-3199.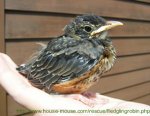 You might also like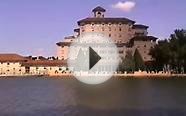 1989: Broadmoor Hotel Wildlife in Colorado Springs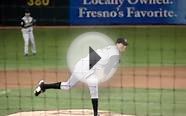 Ubaldo Jimenez of Colorado Springs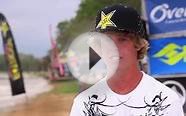 Jr Pro Men Team Colorado Springs - King of Wake Tour
Is the Green Line Green? Status, Trend, and Treatment of Colorado's Riparian Areas: October 1-3, 1996, Pagosa Springs, Colorado, Proceedings of the Eighth Annual Conference
Book (BiblioGov)
Does Wildlife Stand a Chance a Against the Gun? / The Idaho Springs Hunter Survey Caper / Enos Mills / The Red-Tailed Hawk / A Trip to North Park / Trapping in the Footsteps of Mountain Men (Colorado Outdoors, Volume 27, Number 2, March-April 1978)
Book (Colorado Division of Wildlife)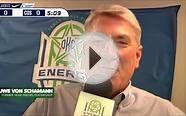 2015 USL Playoffs - El OKC Energy FC vs Colorado Springs ...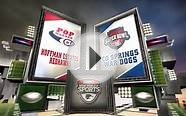 Colorado Springs War Dogs (CO) vs. Hoffman Estates Hawks (IL)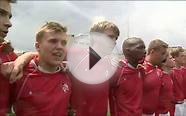 Division I: EAST HS vs Colorado Springs
Popular Q&A
Are CPW phones unlocked? | Yahoo Answers
even if they are locked you can always get unlock code after 3 months of use. T- Mobile PAYG policy
if i get a t-mobile phone from cpw is it unlocked and debranded? | Yahoo Answers
I would never have another phone on T Mobile network. For the past 15 days I have had no signal in my flat, if I want to send a text I have to get the little girl who lives in the flat above to run up the street with my phone. Last year I had the same problem, no signal for 35 days, and they sweet talked me into staying with them with a new phone. Well they can stuff the stupid thing cos I am looking elsewhere!
CPW gave me 2 phones back.? | Yahoo Answers
well at some point they will find out, try selling it to someone and see if they can get it turned on.