Affordable Hunting Trips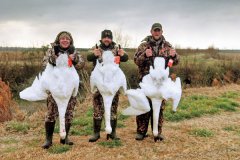 There is nothing better than a good guided hunting trip and few things more frustrating than a bad one. Do some research prior to handing money over to an outfitter by speaking to individuals who have hunted with them about their experiences.
You will know if something sounds fishy, and it's a red flag if an outfitter won't produce contacts. For these trips, check out Getducks.com and Ramsey Russell.
North Carolina: Swans & Ducks
You may not feel like a complete waterfowler if you haven't at least dreamed of going after a tundra swan, and the go-to place to do it is North Carolina, where some outfits run success rates close to 100 percent. The Mattamuskeet Refuge area is the hub of hunting North America's largest legal waterfowl.
It's a simple outing and affordable for this ultimate trophy. An average duck hunt run's $550 to $600 with lodging per day for up to three guys, so you and a few buddies can have a three-day package and that's about all each of you will pay in the end.
"My kid out there mowing grass this summer could afford this hunt. Go for two or three days, so you can pick a nice mature bird and enjoy it, " Ramsey Russell of Getducks.com says.
"Instead of seeing a few you will see hundreds if not thousands, and when you get your swans you can chase pintails, scoters, long-tails and all kinds of fun stuff." Experience boat blinds for decoying ducks in the shallow flats, true traditional East Coast tidal hunting.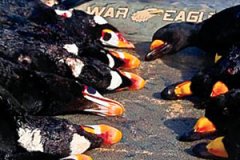 It's the place to go to get your hand on a beautiful plumed out swan for taxidermy in January.
Delaware Sea Duck Combo
Historic Chesapeake gets all the hype, and Delaware Bay is not on the radar of many waterfowl hunts, but it should be. One of the biggest bodies of water on the East Coast is home to massive ledges where deeper waters come right up to oyster shoals and the hunting is terrific for white-winged, surf and common scoters.
Experience classic layout boat hunts, with plenty of cool options if the weather gets too rough for sea ducks. Chase mallards, geese, black ducks or brant, or score that trophy long-tail in a place that also has plenty of Eastern Shore-style Canada goose hunting.
"We quit booking Maine because weather can screw you up so quick and there's not much you can do when you can't chase sea ducks, " says Russell.
It's a good trip to bring spouses along, because it is surrounded by civilization, yet it has fantastic hunting and is off the beaten path, without the pressure of the famed bay to the south. An affordable hunt at $250 to $300 per day, and it's not too expensive to get to, because any major airline flies to Baltimore or Washington D.C.
Pacific Northwest Greenheads
When guys say "greenheads" the Northwest is not the first place that comes to mind…yet. Editor Skip Knowles cut his teeth on mallards in the Columbia Basin, with absolutely no idea how good he had it. With a seven greenhead limit and tornadoes of pintail, wigeon and Canada geese flocking through eastern Washington, this is one of the most consistent bets in the country.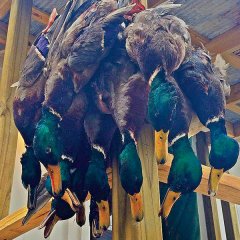 Russell's waterfowl hunts run 0 a day and for , 500 you can get lodging meals and everything for a three-day duck hunt. There are many reputable outfitters at all levels hunting Washington on both public and private lands.
Thousands of acres of impoundments and standing flooded corn are routine on private lands, and you can bring your boat and hit the Columbia, McNary and other spots scattered around the big river's many refuges. Southern Idaho is often a short stopper of greenhead flocks and can be excellent, too.
Mississippi Dela Ducks
Public opportunities in the Deep South are getting tougher, but private land waterfowl hunts with outfitters are becoming more affordable, and this is a place you just have to experience.
Duck country down here is so different from the rest of the U.S., with some of the best dirt in the nation in regions with the lowest, wettest spots imaginable, places where rivers come together and the flooding creates some of the best habitat in the world. Cypress breaks, ag fields and flooded impoundments host mallards, gaddies, teal, wigeon and just about everything else.
For 0 a day in Tallahatchie County you can stay in an antebellum plantation home and enjoy top-notch meals and drinks on the delta, where in spots so many mallards trade back-and-forth at eyeball level around the refuge you won't believe it. Mississippi is simply full of great guided duck hunts at all levels.
North Dakota Ducks & Geese
Come pay homage to the duck motherland, a place that produces birds, stages birds, and funnels millions of spring snows when they come back through. If the snows get stalled due to weather, you're in for the waterfowl hunt of a lifetime.
Russell doesn't book North Dakota trips but does make referrals and that Devil's Lake region is something special, he says. Where else but NoDak can you legally hammer 15 Canada geese in the month of August? For $350 a day, you can have British Columbia-style bag limits.
Nobody is shooting 15 Canadas per man per day (the birds are just too tough to dial that efficiently) but some of the guys have killed 10 or so apiece.
"Six of us shot 65 big resident birds one day, so it happens, " Russell says. Great mallard hunting is a given in central ND, and the state's laws are set up so outfitters have to play by many of the same rules as regular hunters.
"It's a mighty damned big state, " Russell says. "I know guys going out there for 15 years who still get off the beaten path far enough to avoid competition."
Texas Panhandle Cranes
One of the best kept secrets for years, a sandhill crane hunt on the Texas Panhandle is at the top of our list. Thousands of tiny glacial lakes left after the Ice Age are scattered across terrain now surrounded by countless acres of beef country full of wheat corn, milo and soybeans.
The result: a vast and beautiful habitat. Some lakes have ducks, others geese, still others cranes. Most lakes offer a mixed bag of teal, wigeon and mallards right at daybreak and then geese are the late arrivals doing their thing along with the cranes.
"A guy can go out and shoot ducks, geese and score a bonus crane on any day, " Russell says. "Texas has always been the place to go to shoot cranes and it hasn't slowed a bit." Affordable, from $250 a day and up.
Kansas Ducks & Geese
For duck and goose hunters, this is a paradise, and it's no longer a secret. Kansas duck hunts have been getting lots of attention because the central area is simply unbelievable, and guided hunts are reasonable at $300 to $350 a day with lodging for skies with mallards, teal and wigeon.
Goose hunts can get legendary in a hurry when flocks group up en masse, and the limits are relaxed by U.S. standards. There is good public hunting at Cheyenne Bottoms and Quivira (among others) for those willing to do their homework, and some of the country's best gunning for wild upland birds if you like to chase prairie chickens, pheasants and quail for afternoon fun.
You might also like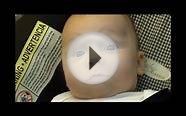 Thriftshop in Prague - treasure hunting trip - Prague ...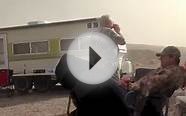 Hunting Trips Volume III Triple Buck Hunt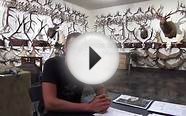 Most Affordable Way to Hunt: CABELAS TAGS
AGPtek® Cleanable Pure Ceramic Replacement Soldier Water Filter Cartridge for Hiking Camping Fishing Hunting Climbing Trip/Travel Out-door Work Survival and Emergency
Sports (AGPtek)
Lightest: less than 90g
Environment friendly: cleanable filter cartridge.
High filtration fineness: unique dual ceramic membranes cartridge with mean pore size of 0.1 micron.
Only for the pure easy soldier water filter replacement
It s a good choice for soldiers, hiking, camping, fishing, hunting, climbing, trip/ travel, out-door work, survival, emergency and also refugee and rescuer in earthquake...
Striker 00141 Magnetic Light Mine Stocking Stuffer, 5-Pack


Home Improvement (Striker Handtools)




Get light into tight spaces with the Striker Light Mine
Very powerful 12 Rare-Earth magnets allow you to aim light in any direction
The legs act as tripods to aim the light, if there is no metal to stick to
Lumen Tech high-output, wide-angle, intensely bright Light Emitting Diode ( LED )
Makes a great gift or stocking stuffer! Batteries are included
Very powerful 12 rare-earth magnets allow you to aim in any direction
Lumen techTM High output, wide angle, intensely bright Light Emitting Diode LED
The legs act as tripods to aim the light if there is no metal to stick to
Makes a great gift or stocking stuffer; batteries are included
The Mileage Ace - GPS Mileage Tracker You Can Trust - Automatic Electronic Mileage Log With WiFi Uploading From The Car


Car Audio or Theater (Epion Technologies)




100% Accurate Audit Compliant Mileage Logs are created automatically to give you total peace of mind. Just install it, and forget about it.
WiFi Uploading from the car means no expnsive real-time fees while still having absolutely no interaction required. Optional manual Business Button to set trips...
100% Online Tamper-Proof mileage logs the IRS trusts, all backed up for years to protect your deduction from an audit. Includes GPS tracking paths for every trip.
30-Day Free Trial Subscription, only $5.99/month thereafter or Save 20% Annually. Compare to $24.99/month or more with real-time trackers.
Made in the USA with 100% US-based customer support. Support US manufacturing and US jobs!

OKEBA Portable Soldier Water Filter Water Purifier for Hiking Camping Fishing Hunting


Home Improvement (OKEBA)




Portable Soldier Water Filter Purifier for Hiking Camping Fishing Hunting
Capacity:530 gallons. Dimensions: 13.8×5.7×2.8cm.Material: plastic, metal.
Size of ceramic membrane s aperture: 0.1 micron. Output: Approx. 0.3 l/min (10 oz. per minute).
Smallest: can be held in glasses box. Environment friendly: cleanable filter cartridge.

Outrigger Designer Sports Sunglasses with Sleek Styling For Stylish, Active Men and Women (Black/White/Green)


Apparel




Contoured Frames and Give You Excellent Protection and All-Day Comfort When Engaged in Outdoor Activities
Designer-Inspired Fashion That Costs Hundreds of Dollars Less Than Comparable Shades
Fits Medium-Wide. Lens: 2.5in. x 1.25in, Temple: 5.5in, Weight: 1.5oz
100% UV Protection Protects Your Eyes From the Harmful Rays of the Sun
Comes With Handy Cleaning/Carrying Pouch to Protect Your Investment
Popular Q&A
What is the Winterhawks score.
The Portland Winter Hawks scored 1 at Brandon Wheat Kings score of 5.
Who are the Winterhawks playing?
The Portland Winter Hawks will be playing Seattle tommorow. !