Colorado Division of Wildlife Map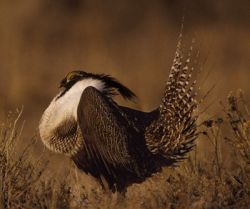 Colorado is home to the Greater Sage-Grouse as well as the Gunnison Sage-Grouse. Both species are included on the BLM Colorado State Director's sensitive species list.
BLM Colorado manages 46 percent (1, 815, 426 acres) of Colorado's Greater Sage-Grouse habitat, totaling 3, 990, 031 acres, and 49 percent (389, 495 acres) of Colorado's Gunnison Sage-Grouse habitat, which totals 797, 432 acres. The BLM has been working with multiple stakeholders to implement conservation actions for both species in the state. The BLM is incorporating conservation strategies for both species into land use plan revisions and using them to prioritize local projects. These conservation plans have also laid the groundwork for future research needs related to sage-grouse in Colorado.
The Greater Sage-Grouse is distributed in six populations in northwestern Colorado:
Primary threats include oil and gas development, infrastructure, fragmentation of habitat, fire and invasive weeds.
There are currently five local working groups and associated local conservation plans active in the state.
Multiple agencies and public stakeholders helped develop the Colorado Greater Sage-Grouse Statewide Conservation Plan (2008) under the Colorado Parks and Wildlife (formerly Colorado Division of Wildlife) direction. This plan provides a range of conservation strategies to address potential impacts, maintenance, and connectivity of sagebrush habitats within the range of the species.
The BLM is involved in several research studies conducted by the Colorado Parks and Wildlife in northwest Colorado to assess sage-grouse response to habitat improvement projects and to develop seasonal use habitat maps that can help inform management decisions.
Gunnison Sage-Grouse
Southwest Colorado contains seven of the eight remaining Gunnison Sage-Grouse populations.
Primary threats include loss or fragmentation of habitat; lack of linkages or habitat connectivity between populations; invasive weeds; small populations and the potential for disease, fire, or development.
You might also like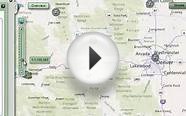 Colorado Hunting Atlas Tutorial - Map Layers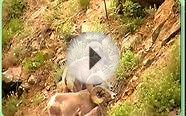 Colorado Wildlife - Bighorn Sheep Safety info near Golden ...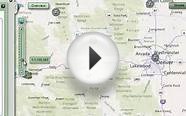 Colorado Hunting Atlas Tutorial - Map Navigation