Grand Canyon White water Rafting half day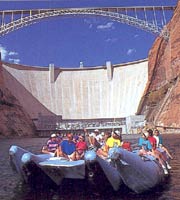 Northern Arizona's very popular Half Day Raft Trips Grand Canyon. Departing daily from Colorado River Discovery's headquarters in Page, Arizona from March 1st to November 30th.
Adults (ages 12 & up): $86+$6 River Use Fee
Children (ages 4-11): $76+$6 River Use Fee
For Reservations & Information Please Call: (928) 645-9175 or (888) 522-6644
The river trip begins with an exciting ride down the two mile long Glen Canyon Dam access tunnel to the base of Glen Canyon Dam. This is where you will board your raft and be off to an exciting trip on the Colorado River.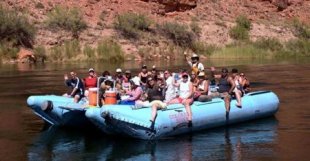 While underway, your experienced guide will tell the area's story of soaring sandstone cliffs, crystal blue-green waters, abundant wildlife, former inhabitation by native cultures, exploration by Major John Wesley Powell, and the Colorado River's modern role in the Southwest's water and power delivery system.
Canyon walls rise a thousand feet into the sky; mysterious messages carved into stone by the Ancient Ones; sit back, relax, listen and learn as you share the story behind the scenery of one America's great rivers. Keep your eyes cast skyward for eagles, herons, maybe even a California condor as you drift on the crystal clear water, carried by the gentle current of the Colorado River.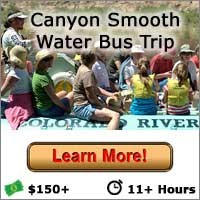 Mid-way through your trip, you'll take a short walk into a side canyon where you'll examine a panel of petroglyphs. These pictures were etched into the canyon walls hundreds, maybe thousands of years ago by the one of the area's first inhabitants, the Ancestral Puebloans.
This is a River Rafting trip your whole family will remember forever, from pre-schoolers to great-grandparents, and everyone in between! The Colorado River Discovery Half Day Raft Trip is one of Northern Arizona's top tours.
Half Day Colorado River Raft Trips
Bistro Bag Lunches can be purchased
Water and canned drinks included
March 1 – April 30 departs 11:00 a.m.
$92 Per Adult
May 1 – September 30, twice daily at
7:30 a.m. and 1:00 p.m.
October 1 – November 30 departs 11:00 a.m.
$82 Per Child (Ages 4-11)
This stretch of the Colorado River has no rapids, so children as young as 4 can take part! Pontoon boats can accommodate up to 22 people. Book your seats today!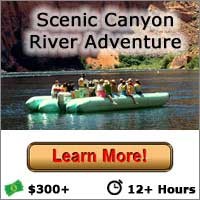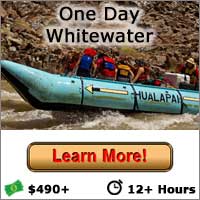 You might also like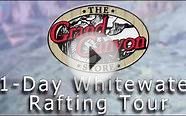 One Day Grand Canyon Whitewater Rafting Tour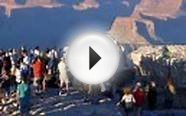 Grand Canyon White Water Rafting for Sedona visitors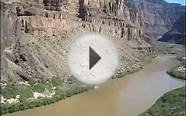 My Ride Into the Grand Canyon for 3 days White Water Rafting