Colorado Elk Drop camps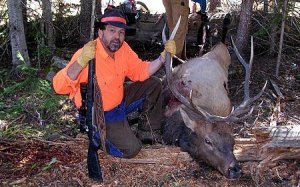 Ripple Creek Lodge's drop camps are located deep into the White River National Forest and the Flat Tops Wilderness Area of northwest Colorado. Tremendous Elk habitat surrounds the camp site allowing hunters the opportunity to hunt directly from the tent without the need for horses or miles of hiking. Camps can accommodate 2 to 8 hunters and offer a comfortable base in the remote backcountry during your hunt. Each camp contains two tents, with one in place to house the cooking facilities while the other will be set and furnished as the sleep tent.
Ripple Creek's drop camps are set in their permitted area prior to your arrival and will include the following equipment;
Tents
Stove
Heaters
Lanterns
Cooking Pots and Pans
Paper Goods
Cots
First Aid Kit
Water Carrying Container
Toilet Seat
All of Ripple Creek Lodge's drop camp sites are located next to a water source. Most of these water sources are small springs and produce good water. It is the hunter responsibility to purify the water for safe consumption. All of the heating, lighting and cooking equipment is fueled by propane for camp comfort and also eliminates the need for a campfire or wood burning stove. This extra step allows hunters to stay in a clean. quite and low impact camp in the center of Elk country.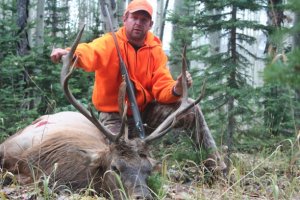 When you arrive at the Lodge, staff will help organize your gear for the pack in, discuss the basics of riding, fit you to a horse and saddle, discuss legal and ethical hunting regulations and explain proper Wilderness Area camp use. This procedure usually takes an hour or more too complete so it's important to arrive a couple of hours prior to your "pack-in time". It is also important to schedule a "pack-in time" at least 1 to 2 days before the season starts. There is no extra charge for time in camp before or after the hunting season.
Since Ripple Creek Lodge's drop camps are packed in via horse, weight consideration is a very important part of your pre-trip planning.
All hunters will only be allowed to take to camp;
1 bag (weight not to exceed 35 lbs.)
1 small day pack (to be carried with you, on your horse)
Sleeping bag
Rifle
A good way to achieve these weight requirements is to pack with your entire hunting party and make sure that the camp is not doubling up on items that can be shared.
Womens High Heel Leather Shoes Metal Buckle Lace Up Side Zipper Black Mid-calf Warm Martin Boots EU39


Shoes




The size chart below,Inch is foot length.Women Size:EU34=US22CM,EU35=22.5CM,EU36=23CM,EU37=23.5CM,EU38=24CM,EU39=24.5CM,EU40=25CM,EU41=25.5CM.
Style:Casual Boot with fashion design. Size:euro 34-39. Color:black,beige.
SOLE THICKNESS: 9CM,UPPER: 10.5CM,PLATFORM: 2CM.All the data information are made by handdipping,subject to the ankle boot when you get.
IN THE END: COTTON MATERIAL MIDSOLE,INSIDE OF: COTTON MATERIAL INSIDE.
The soft material has a natural texture with good permeability and flexibility.The fashion design of side zipper makes shoes easy to wear.
WOFALA Samsung Galaxy Tab A 8.0 Case - Ultra Slim Lightweight Smart Cover Stand Case With Auto Sleep/Wake Feature For Samsung Galaxy Tab A Tablet (8.0 inch Display, 2015 Version)-Black
Baby Product (WOFALA)
Built-in magnetic strip provides sleep/wake feature. Specifically designed for samsung Galaxy Tab a 8.0 Tablet 2015
Premium synthesized leather exterior and soft interior to prevent scratches; All corners are protected; Full access to all features (Cameras, Speaker, Ports and...
Built-in flip stand with multiple viewing angles; Built-in elastic hand strap
Cover will fold horizontally as a versatile stand to enjoy typing, emailing, gaming or video watching
Ultra slim and light weight, convenient to carry with
Popular Q&A