Grouse hunting Colorado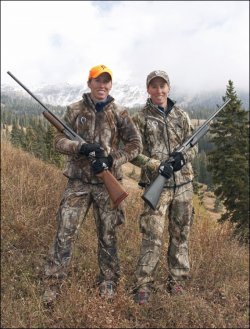 We showed up on time. Oh dark-30. Parked our car on a pull-off area on a mountain road in Kebler Pass, located in the Crested Butte area. The twins stepped out of their vehicle next to us – dressed in camo, do-rags and running shoes. The reflective tape on their shoes gleamed in the pre-dawn and I thought, "I'm in trouble here." My hunting boots already felt heavy.
Not only had we arranged to hunt the high country of Crested Butte, Colo., with our friends and acting grouse guides Katherine and Eric Grand, but also, Olympic biathletes Lanny and Tracy Barnes joined us for this morning's dusky grouse hunt.
The Barnes' sisters took a weekend break from their Olympic training routine in Utah, to scoot back to their home state of Colorado and hunt October's season of dusky grouse with us. In fact, these young women grew up hunting with their father and still hunt whenever possible, eking out time between training sessions, or including two-hour runs before hunting. They are hunting machines – in running shoes.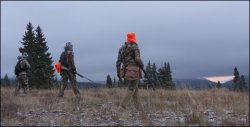 The twins believe their diet of organic wild game, acquired through hunting, is an important tool – part of their training regimen.
The author (far right) with Olympic twins Lanny (middle) and Tracy Barnes head out at first light in the Crested Butte area of Colorado.
The dusky, aka blue, grouse is the only animal known to fly to higher elevations in the winter. This bird's hunting season usually runs from Sept. 1 through Nov. 20, and West of I-25 only, with a daily bag limit of three and a possession limit of nine.
Katherine said, "You have to pound ground when you're hunting grouse. The more you hike, the better your chances of flushing grouse."
Lanny Barnes..
And hike we did. Up, up and up to more than 11, 000 feet. The twins, in their foot attire, scampered like mountain goats and used a skiing-type method (minus poles and skis, of course) to traverse down mountainsides. We snuck up on mountain meadows and grassy areas. Nothing. We crept into forests, always looking up. Nothing.
Tracy Barnes.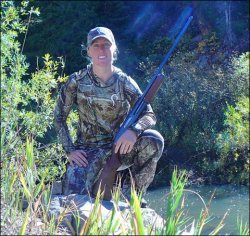 We smelled elk everywhere, and came upon a wallow that looked like feral hogs had been at work. But, the credit went to a local herd of elk that had just been there. The ground was still warm. From this alititude, we admired vistas that would make fine doublewide postcards at the local tourism shop.
But we only saw one, count 'em, one grouse. In fact, our guide and photographer found him. He sat alone in a pine about 25 feet high. We hunters had already passed through that neck of the woods and stood out in a grassy meadow. Meanwhile, the photographer and the guide tried to cajole, scare and move that grouse out of the tree so it would fly over us. And fly he did – about 60 feet from the nearest shooter.
A lone grouse roosted in a pine that eventually eluded the hunters.
Katherine also said, "A good dog increases your chances too. Just make sure he is well trained because a dog that ranges out too far will ruin you opportunities." Of course, for that hunt, we had no dogs. But, we had the twins; they covered ground like panthers.
As with most hunting, if you work a particular area, you will soon discover areas where the game that you are seeking congregate. For grouse, Katherine and Eric say they hunt steep terrain and look for open meadows where grouse feed. Katherine added, "Getting out at first light or last light is also important as they are harder to find during the middle of the day."
From left: The author, Lanny Barnes, Eric Grand, Katherine Grand and Tracy Barnes.
You might also like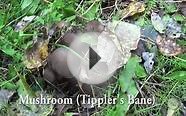 Traditional Bow Hunting Grouse Fall 2012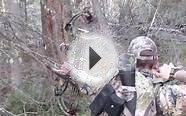 PSE Archery Kill - Elk Hunting in Colorado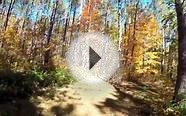 Autumn Blaze Ruffed Grouse Hunting 2015
Mortality, survival, and effects of hunting on grouse, partridge, pheasants, and quail: An annotated bibliography (Division report - Colorado Division of Wildlife ; no. 3)
Book (Colorado Division of Wildlife)
Place Your Shot / Elk Hunting / Are You a Real Hunter? / Sylvan Lake Recreation Area / Pronghorn Research / Whirlybird Tagging / Hunting the Blue Grouse (Colorado Outdoors, Volume 13, Number 5, September-October 1964)
Book (Colorado Department of Game)