Colorado Dow leftover licenses
A million acres support one of the strongest elk migration routes in the Centennial State across the valleys, flats and crests in Jackson County.
By Michael Peceny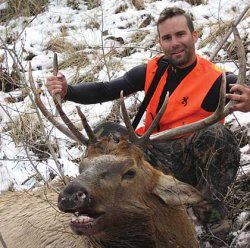 Tim Meirink was guided to this 4×4 bull in North Park's GMU 171. This hunting unit starts very steep and high and descends into sage and prairie fields to the southern border at Walden. Many good hunting areas are scattered throughout the unit. Photo by Michael Peaceny.
Colorado is an elk hunter's paradise. A seemingly infinite number of draws, valleys, grassy flats, sagebrush hills, aspen-covered meadows and dark timbered forests make Colorado prime elk country. Throw in millions of acres of public land, and you have a recipe for some of the best elk hunting in the world.
This fantastic habitat, along with careful elk-population management by the Colorado Division of Wildlife, are the main factors that account for nearly 300, 000 elk walking through the state.
With all those acres and all those elk, arguably hundreds of prime hunting areas lie across Colorado for taking quality elk. Many of these areas combine great habitat, good elk numbers, lots of public land, and ample opportunities to harvest an animal for the freezer or for the wall. One such region is the North Park area.
REGION DETAILS
The North Park area, also known as Data Analysis Unit (DAU) E-3, is a million-acre jewel located in north central Colorado. DAU E-3 essentially creates a footprint over the entire Jackson County property boundary.
This area is made of up five game management units — 6, 16, 161, 17 and 171 — and is bounded by the mountain crests of the Park Range, Medicine Bow Range, Never Summer Range, and the Rabbit Ears Range. The heart of the region features relatively open sagebrush country and flat willow marshes, which are surrounded by aspen, fir, and pine forests that rise quickly to elevations beyond the tree line. This flat-base-and-steep-rise character of the land creates prime elk travel zones and offers excellent spot-and-stalk or ambush-hunting opportunities.
Of the million or so acres in the North Park area, only 36 percent of it is privately held. What this means is that most of the remaining land lies under the authority of the Bureau of Land Management, the national forest system, state forests, or state trust land — all of which are public lands and all of which are huntable. While pressured animals tend to seek out the private lands for safety, there are still tens of thousands of acres of opportunity available on public lands.
CDW terrestrial biologist Jeff Yost has studied the North Park elk herd for many years. According to Yost's Elk Data Analysis Unit Plan, the 2008 post hunting seasons population estimate of elk in the North Park region is approximately 8, 348 animals, although the more readily accepted estimate places the total number of elk at 10, 000 animals.
Within this population, the bull-to-cow ratio currently stands at almost 20 bulls for every 100 cow elk. Trends in the yearly reports display the ratio is increasing, meaning more bull elk for the 2010 season.
GMU 6
Game Management Unit 6 makes up the upper and eastern boundary of the North Park pie. The Medicine Bow Mountains are the border and quickly fall into the flat country just east of the town of Walden.
With heavy snows possible across the region, the best hunting opportunities lie in the transition areas between the mountainside and Walden valley floor. Elk Mountain and Three Sisters State Trust Lands are great starting points but often receive a lot of hunting traffic. It's worth the effort to hike into the Medicine Bow Range and hunt across the mountain range above the valley floor.
If the weather gets really bad, head to the sagebrush. The Sand Creek State Trust Land unit holds more than 5, 000 acres of public land where elk winter during the cold months of November through February.
Ease of access and proximity to Walden makes seeing other hunters common. But coyotes are well fed on gut piles at Sand Creek, so you could be one of the lucky ones to get an elk there.
Keith Phillips took this shooter bull in 2008 off Owl Mountain, just to the south of the town of Gould. In additional to holding many old logging roads, several running creeks, countless open meadows and dark timber patches, it also contains a resident elk herd numbering in the hundreds. Photo by Michael Peceny.
You might also like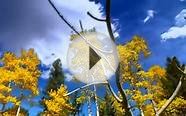 Fly Fishing Small Mountain Streams (Colorado Outdoors ...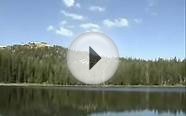 Aerial stocking of fish in the Uintas (Utah)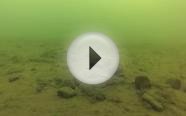 Ice Fishing Straberry Reservoir Utah, Colorado Cutthroat ...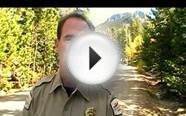 Colorado Parks and Wildlife - Golden Gate Canyon State ...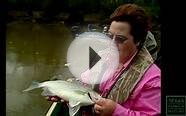 White Bass Fishing, Running of the Bass - Texas Parks and ...
How to Hunt Deer & Elk the Realistic Way / Those Big Game Drawings / Understanding Mourning Doves / The Field Care of Big Game / Steel Shot for Waterfowl (Colorado Outdoors, Volume 23, Number 5, September-October, 1974)


Book (Colorado Division of Wildlife)



A Time for Unity / Why Late Big Game Hunting Seasons / Land Acquisition / Developments at Vail / Profiles of the Pelican / Backyard Birds / Visit to City Park Lake / What Do Owls Eat? (Colorado Outdoors, Volume 24, Number 1, January-February 1975)


Book (Colorado Division of Wildlife)



Popular Q&A
What is the current fishing license fee through the Utah Division of Wildlife?
What is the current fishing license fee through the Utah Division of Wildlife?