Colorado Seasons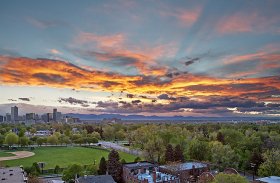 "If you don't like the weather, wait five minutes." This Denver saying accurately reflects the unpredictability and broad scope of the Colorado climate. Denver has four distinct seasons and each one varies drastically from the others. The majestic Rocky Mountains to the west cause Chinook winds (dry and warm winds) to heat this arid High Plains city, resulting in generally mild temperatures year-round and 300 days of annual sunshine (more than Miami or San Diego).
Though impossible to predict, the following presents a guideline for the general weather conditions of each season in Denver and in the nearby Rocky Mountains, an important part of the Denver culture and lifestyle.
Denver Summer: June, July & August
Dry heat characterizes the Denver summer, though temperatures do not usually reach scorching and average in the very comfortable 70s-80s. In 1999-2005, drought was a major problem causing water restrictions and brown vegetation, but the Denver summer is beautiful and great for outdoor activities, especially in the mountains just a short drive away where the temperatures cool and wildflowers bloom. In August, afternoon thunderstorms are fairly common.
Denver Fall: September & October
Denver fall averages cooler and crisp temperatures, but conditions vary greatly to reflect the fickle transition from summer to winter. Autumn leaves are beautiful throughout Denver and even more so in the mountains, where bright golden aspen groves are a popular destination for tourists and Denverites alike. The first snow usually falls in the city in late September through early October, after which snowstorms become unpredictable in frequency and magnitude and alternate with both warm, sunny days and chilly, breezy ones. Denver ski resorts begin opening in mid- to late October.
Denver Winter: November, December, January & February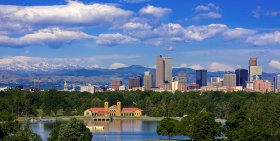 Snow falls sporadically in Denver throughout winter, though usually melting quickly in the persistent Colorado sun—cold or cloudy spells rarely last more than one or two days. Temperatures are surprisingly mild, averaging just around freezing point. The mountains, however, remain snow-capped throughout winter, and skiing & snowboarding conditions are world-renowned but can be quite cold with icy winds at times.
Denver Spring: March, April & May
March is the snowiest month in Denver, often with the biggest and most unexpected blizzards, and springtime brings the greatest weather variety. In the mountains, spring skiing is warm and sunny, and Denver resorts stay open at least until mid-April. As the mountain snow begins to melt, runoff brings Denver to life with flourishing green vegetation and bright flowers.
You might also like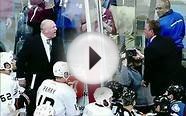 Colorado Avalanche Season in :60 Video - Colorado Avalanche
NHL Live: Pre-Season Top 10 Video - Colorado Avalanche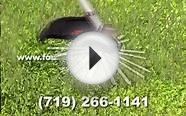 Colorado Springs Landscapers | Four Seasons Landscaping
Four Seasons 26738 O-Ring & Gasket Air Conditioning System Seal Kit


Automotive Parts and Accessories (Four Seasons)




O-Ring & Gasket Air Conditioner System Seal Kit
Our products are engineered and tested to provide years of trouble free operation. Backed by over 50 years of mobile a/c experience, fix it once and fix it right...
Compatible with both R12 and R134a refrigerants
All the seals needed to complete the job
Application specific
Colorado State Flag 3x5 ft. Nylon SolarGuard Nyl-Glo 100% Made in USA to Official State Design Specifications by Annin Flagmakers. Model 140660


Lawn & Patio (Annin)




Made in the USA! This is an AUTHENTIC Annin Flagmakers flag. SINCE 1847- the OLDEST and LARGEST manufacturer of flags.  Made in our factories in South Boston, VA...
Be a Part of History!  Annin made the flag that draped Abraham Lincoln s casket, the flag raised on Iwo Jima and the US flags sent to the moon. Own a piece of history...
Quality! Expertly printed and sewn using Annin s 200 DENIER NYLON fabric in our Virginia factory with our exclusive SolarGuard(TM) dyes. PROVEN to last the longest...
Expert Craftsmanship!  Our expertise in advanced digital and screen printing uses a three step process to penetrate our custom dyes into durable weather-resistant...
Annin Presentation Box!  Each flag ships in an OFFICIAL ANNIN FLAGMAKERS presentation box.  Makes an excellent gift for family and friends to PROUDLY display at...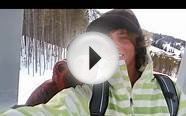 Colorado Season Edit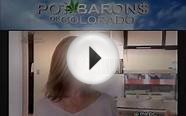 Pot Barons of Colorado | Season 1 Episode 2 | The Race to ...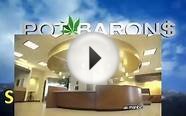 Pot Barons of Colorado Season 1 Episode 5 | The Grass Is ...
2015 Colorado Avalanche Team 20th Anniversary Season Logo Jersey Patch


Sports (Patch Collection)




Ships same business day if paid before 3pm Central Time
Offically Licensed by NHL
Perfect for framing
Measures approximately 4 inches in Diameter
Exact replica of patch worn on ice by the players

Colorado Baseball


Mobile Application (Appstoro)




Podcast
News
Stats
Standings

Womens Colorado Rockies Tee / T-shirt Small


Apparel (4her)




Team name & logo on front, vintage print sleeve stripes
3/4 Sleeve, crew neck
Classic fit, Mid-weight
100% cotton
S/36 Bust 25.5 Length M/ 38 Bust 26 Length L/40 Bust 27 Length XL/42 Bust 27.5 Length