Colorado DNR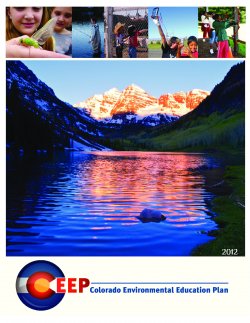 Purpose
The CEEP aims to build on existing CDE and DNR strategic priorities by providing a vision for environmental education that is based on the Colorado Academic Standards, supports high quality research-based environmental education curriculum and instruction, and fosters outdoor recreation and stewardship.
Now and in the future, Colorado students must make difficult decisions that impact the health of the environment, success of our communities, and vitality of our economy. The CEEP sets the stage for the vision articulated in HB10-1131 and outlines a coordinated strategy between PreK-12 teachers, environmental education providers, and leaders in Colorado to:
Restore and increase field experiences as part of the school curriculum
Improve state-wide access to existing environmental education programs and materials
Make connections with Colorado Academic Standards and 21st Century Skills to support classroom instruction
Create opportunities for enhanced and ongoing professional development of educators
The CEEP also serves to leverage existing partnerships with teachers, administrators, families, community members, community organizations, business owners, nonprofits, and governmental leaders in order to develop a feasible, cost effective, and sustainable infrastructure that supports the education of an environmentally literate Colorado.
History
In 2010, legislative authority (HB10-1131) was given to the Colorado Department of Natural Resources (DNR) to create the Colorado Kids Outdoors Grant Program. The goals of the legislation were to improve young people's knowledge of the environment and increase young people's opportunities for outdoor educational experiences. The legislation also required the Colorado Department of Education (CDE) to adopt a statewide plan for environmental education. The CDE and DNR asked the Colorado Alliance for Environmental Education (CAEE) and a dedicated task force to create an initial proposal for a statewide environmental education plan. Through an iterative process of data collection including online surveys, focus groups, and public meetings, a proposal was developed and a final Colorado Environmental Education Plan (CEEP) was adopted by the Colorado State Board of Education on December 5, 2012 with bi-partisan support.
Implementation
Implementation of the CEEP is dependent on a strong network of partners in environmental education including teachers, schools, administrators, higher education professionals, non-formal environmental education providers, businesses, and more. The success of the CEEP requires stakeholders to bring forward their existing resources and expertise to ensure all students have access to high quality environmental education experiences. The Colorado Alliance for Environmental Education is a strong partner of CEEP implementation and was selected by the CDE and DNR to facilitate one State and four Regional Environmental Education Leadership Councils. As of 2015, Colorado is the first and only state in the nation to establish environmental education leadership councils to lead the way in state environmental education plan efforts.
Get Involved: How can you help put the Colorado Environmental Education Plan into Practice?
We all have a part in the plan for environmental literacy in Colorado. How can you get involved now?
Help spread the word about environmental education tools and resources in Colorado.
Link us to your website or social media outlets www.coloradoee.org.
Identify how your programs help achieve strategies in the plan and share it with your audiences.
Become a CEEP Partner.
Colorado's environmental education plan is about ensuring ALL PreK-12 learners and teachers have access to environmental education. In order to achieve that goal, we need to know where there are gaps in programming and resources. Does your work help to meet the goals of the Colorado Environmental Education Plan? We are collecting data across the state on all the individuals and entities working to increase access to environmental education by providing programs, field trips, resources and more. Fill out a partner form
Quick Links
Download the Full Colorado Environmental Education Plan
Ertl American Pastime Series Colorado Rockies Bank 1:25


Toy (Ertl)




Die Cast Metal
Includes Collector s Certificate
Popular Q&A
How did everyone do with their Colorado deer and antelope draw?
Colorado uses a preference point system for pronghorn. How long it takes depends on which game unit you are trying to get, and whether you are a state resident or not. Some units, you can be pretty well assured of getting a tag the first time you apply, others (popular or trophy units) may take many years. Easy to draw tags are frequently in poor seasons or units. Most tags are reserved for residents, but can go to non-residents if not enough residents apply.