Mule Deer guided hunts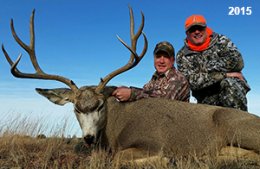 We hunt our mule deer in Weston, Campbell, Crook, Johnson, Bighorn, and Sheridan counties in Wyoming. We lease over 215, 000 acres of private property. These areas hold excellent numbers of trophy-class animals.
Bow season runs September 1–30. This is a classic spot and stalk hunt. They are guided either 1x1 or 2x1. Over the past 22 years our bow hunters have averaged over 85% shooting opportunity. The success rate is near 60%.
Rifle season runs October and November. Our hunts are fully guided five-day hunts, either 2x1 or 1x1. Because the areas we hunt are private and NFS permits, we use pickups, side-by-side ATVs, and horses to access country. Some of our country is extremely rough. Some of these areas require a lot of hiking and horseback riding. The better a hunter is able to get around physically will help during the hunt. We hunt mule deer spot and stalk.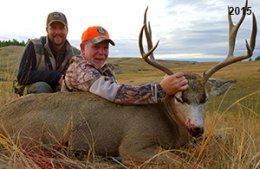 Over 22 years our success rate has been 80% to 95%. Through the years we have averaged taking 2 to 6 bucks each season grossing over 180 BC. Our average width on deer is 24 inches.
The 2015 season was as good as we had hoped for. From what we saw in 2014, we felt we should have a good 2015 season, and we did! Our 34 October rifle hunters harvested 30 bucks for an 88% success rate. There was 100% opportunity. The 8 November rifle hunters harvested 7 bucks for an 87% rate with 100% opportunity. There were many good deer taken this year. The largest buck taken was a 185 B&C. The hunters harvested an additional 7 bucks over 180 B&C.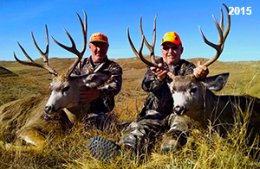 The 2014 season turned out to be one of our best Mule Deer seasons for quite some time. 40 rifle hunters harvested 34 bucks for an 85% success rate. This included 7 misses and 3 cripples. The largest buck taken was a 202 B&C. We also harvested 5 other bucks grossing over 180 B&C.
Unlike most October mule deer seasons, 2013 produced record snowfall and an early season freak blizzard. We had wet, cold, muddy conditions throughout the entire mule deer rifle season. However, even with the poor weather conditions the overall season was fairly successful. We took 45 mule deer hunters who harvested 37 bucks for a success rate of 82%. The largest bucks taken were a 186, 182 and a 181 B&C.
The license success for the non-resident draw, in the mule deer areas, has been 100% successful the last 15 years. The fee for a license is $326.00 or $566.00. License fees and dates are subject to change according to Wyoming Game and Fish. We assist all our hunters with the license application process.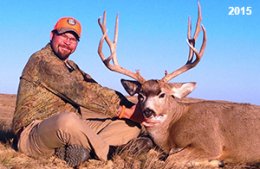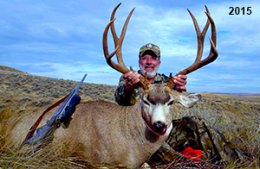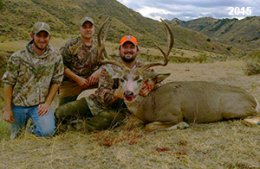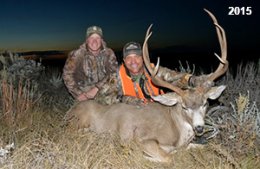 You might also like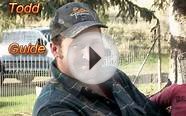 2010 Mule Deer Hunt with Tanglewood Guides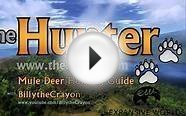 theHunter - Mule Deer Hunting Guide - Best Hunting Tips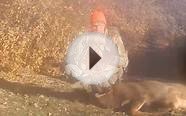 Unguided Mule Deer Hunt - Colorado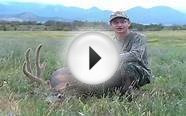 Guided Trophy Mule Deer Hunts in Colorado with West Elk ...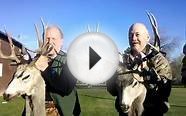 Mule Deer Guided Hunt Eastern Montana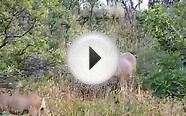 Guided Colorado Mule Deer Archery Hunts with West Elk ...
Mountain Khakis Men's Original Mountain Pant Relaxed Fit, Ranch, 40x34


Sports (Mountain Khakis)




Five pockets
MK signature features
Antique metal shank button & YKK zipper
5 Pockets, Patch Back Pockets
Diamond-Shaped Action Gusset, Reinforced Heel Cuffs
Triple-Stitched Seams
Mid-Rise, Relaxed Fit
Garment-Washed

Mountain Khakis Men's Ranch Shearling Jacket, Tobacco, Large


Sports (Mountain Khakis)




Six pockets
Bi-swing back
Fold down collar
It contains 6 pockets
Shearling Lined Hand Warmer Pockets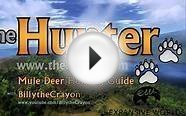 theHunter - Mule Deer Hunting Guide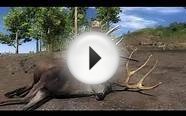 TheHunter Guest Guide -Mule Deer Hunt-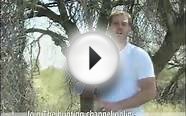 Mule Deer Hunting
Popular Q&A
Where is Carmel Mountain Ranch, CA?
Carmel Mountain Ranch Country Club - 14050 Carmel Ridge Rd, San Diego, CA 92128 ph: 858-487-9224 !
Where is crazy mountain ranch at in montana.
Crazy Mountain Ranch 386 Hammond Creek Rd Clyde Park, MT 59018 Phone: (406) 686-9200. Need directions?