Information about hunting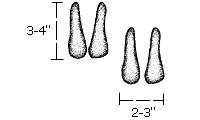 Tracks
On hard ground, the inner curved hooves may not appear. In snowy terrain, a heavy foot drag is evident.
Scat
Mountain goat droppings are easily confused with deer and sheep. However, the sizes of goat droppings are smaller than these other hoofed animals. Depending on the amount of moisture in the goat's diet, their droppings may vary from dry, hard pellets (winter) to a clustered mass of soft pellets.
The range of the mountain goat (Oreamnos americanus) is restricted to the steep and broken mountain ranges of northwestern North America, from Idaho and Washington to Southcentral Alaska. Mountain goats also occur in Southeast Alaska, where their range extends north and west along the coastal mountains to Cook Inlet. In Southcentral Alaska, goats are found in the Chugach and Wrangell Mountains, and a few occur in the Talkeetna Mountains. Goats have been introduced to Kodiak Island as well as to Southeast Alaska's Revillagigedo and Baranof Islands.
Mountain goats are both grazing and browsing animals, depending on the particular habitat and season of the year. They normally summer in high alpine meadows where they graze on grasses, herbs, and low-growing shrubs. Most goats migrate from alpine summer ranges to winter ranges located at or below tree line. However, some may remain on windswept ridges throughout the year. As winter advances and the more succulent plant species die back, a goat's feeding habits shift to browsing. Hemlock is an important winter diet item but largely out of necessity; feeding habits in winter are mainly a matter of availability.
Mountain goats rely on the security of their cliffy territory for protection. Approaching within shooting range is not difficult if the hunter is able to negotiate the terrain. When possible, it is usually best to approach from above as goats are more alert to possible danger from below. Both billies (males) and nannies (females) have horns. Billies and nannies look similar. It is legal to shoot nannies; however, wildlife managers encourage hunters to target billies instead and tools have been created to help hunters to tell the difference. See the Mountain Goat Identification Quiz for more information.
Billies are about 40 percent larger than nannies and average 260 and 180 lbs (118 and 82 kg), respectively. An adult goat may lose 50 lbs (23 kg) on its meager winter diet and gain the weight back during the lush summer months. The dressed weight of a 250-lb (113-kg) goat is about 150 lbs (68 kg); about 85 lbs (39 kg) of this is usable meat.
In 2007, 518 mountain goats were harvested in Alaska, 158 by nonresidents (about 30 percent) and 360 by resident hunters. Nonresident mountain goat hunters are required to have a guide or be accompanied by an Alaska resident who is a relative.
You might also like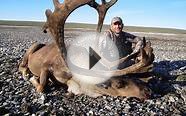 Caribou Hunting Outfitters, Tips, Videos and Information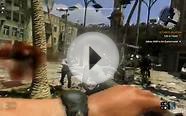 Dying Light: The Bozak Horde - Information! (New Hunting ...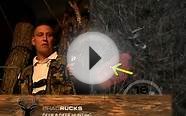 Vital Information part 1 - Deer and Deer Hunting
Black Bear Hunting: The Ultimate Reference


Book (Smith Pubns)




REVIEWS for First Edition
I give this book a 4 paws rating (excellent). It is well written and the subject is thoroughly covered. If I had to only own one book on bear hunting, this would...
Best Black Bear Hunting Book out there! ~ C. Ramirez (Northern California)
Excellent Book! I recommend to hunters of all experience levels. ~ Joseph Classen
A Must Have if you are planning a bear huntDon t go bear hunting without reading this book. ~ Laura (Michigan)
Panegy Men Spring and Autumn Professional Multi Pocket Travels Outdoor Fishing Vest Photography Director Vest Khaki XXXL


Sports (Panegy)




Multi pocket designed to hold everything from tippet to fly boxes and all other gear needed for a full day stream fishing
Zipper front closure,easy to take on and take off.
Great For Safari, Sightseeing, Fishing, Camping, Traveling, Photography or Any Adventure!
Made of high quality polyester,which is firm,durable, not easy to corrode.It is also easy to wash and fast dry.
Asian size is a little smaller,please check the detail information about size in the picture before buying.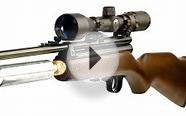 Information About Air Rifles - Home Life Country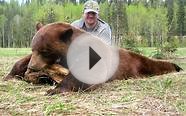 Black Bear Hunting Outfitters, Tips, Videos and Information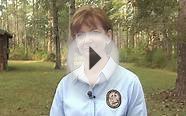 Information about the 2015 bear hunt in Florida
Leading the Conversation: 3 Powerful Communication Strategies to Upgrade Your Image and Improve Your Results When Speaking with Business Leaders About IT (The I.T. Success Series Book 2)


eBooks (Almianna Press)



Rock Me Women's Baken III Suede Waterproof Lace Up Winter High Top Black Snow Boots Size 10 B(M) US


Shoes




1D fulff in about 0.6 , keep your feet warm
Boat styel, look wide in toe, suit for home, office, party, outdoor etc.
Waterproof, dry, skid, wearable
Ultra comfort, stylish look, quality design
Great Crhistmas gift for friends and family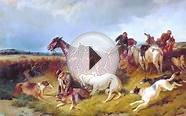 Information about Wolves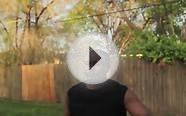 Bounty hunting on erroneous Information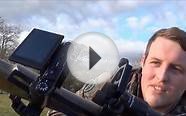 Rabbit Hunting 3 + Information about my scope cam and rifle.
Popular Q&A
The best place to look for information about hunting seasons and rules is
You will probably want to go to your local fish and game office. They will be able to answer all the questions that you will have about hunting in your region. Keep in mind that it is important to get the information for your area.
You can usually get info from a local outfitter. Most places that sell ammo, gear, and other hunting supplies will be able to provide you with what you need to know.
Just remember every state has different rules and regulations so if you have recently moved make sure you learn the rules or there can be some major consequences.

Where can one find information about hunting decals?
Hunting decals can be found on many websites such as Car Stickers Decals. One can customize and personalize many stickers to ones liking. Cabela's and Bass Pro Shops also have a variety of hunting decals which may be suitable.
Where can one find more information about bear hunting games.
One can find more information about online bear hunting games by visiting websites such as Sport Games Arena, Game Adrenaliine, Muley Madness, Search Amateur and Top Shooting Games.
i need information about hunting diease? | Yahoo Answers
Im assuming you mean Huntington's Disease, not hunting disease.
Hope that helps, the 2nd one is a support group, the other two are research based.
Information about fossil hunting? | Yahoo Answers
Fossils hunting are possible in sedimentary rocks like limestone and mud stone. These rocks are the good because fossils form when a plant, animal, or other signs of life such as a dinosaur footprint, becomes buried in sediment, which is usually grains of mud or sand. You can usually find fossils anywhere that sedimentary rocks are exposed at the surface.