Colorado Hunter safety card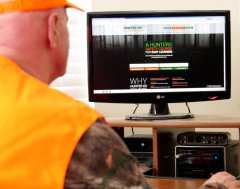 Hunter Education Training is Now Available at Your Fingertips
Story by Gary Berlin
Formal hunter education training has existed since 1949 when New York became the first state to require hunters to complete hunter education prior to buying a hunting license. More than 20 years later, Colorado joined the ranks, requiring anyone born on or after Jan. 1, 1949 to obtain a hunter education certificate to purchase or apply for a hunting license. Because of the success of hunter educatio n training, which reduced hunting-related shooting incidents, today all 50 states and 11 Canadian provinces have some type of hunter education requirement.
Between 1949 and 2000, a typical hunter education class consisted of 12 to 22 hours of formal classroom training, passing a comprehensive written exam, demonstrating safe gun-handling techniques and firearms proficiency at a firing range. It was not uncommon for a student to attend three to six individual class sessions before obtaining their hunter education certificate.
At the onset of the 21st century, a number of far-sighted, state hunter-education administrators recognized that many of their residents were resorting to the Internet for their news, information, entertainment and education. These administrators submitted a proposal to the International Hunter Education Association (IHEA) to create a program for online delivery of hunter education.
The IHEA obtained a substantial grant from the National Shooting Sports Foundation in 2000, and with those funds, created the first online training program for hunter education. The new, online course was not intended to replace face-to-face, instructor-led training; it was designed so that a student could complete their knowledge-based training online and then attend the skills-based class in order to obtain certification.
Initially, a number of states were reluctant to accept online training as a substitute for the traditional face-to-face training. In addition, in those states where online training was offered, students were hesitant to depart from the traditional delivery method for hunter education training. Many administrators and students felt that the quality of the online training was inferior to the traditional method. Nearly five years after online hunter education was offered, less than one percent of the total number of students earning hunter-education certification in the United States obtained their training online.
In the past six years, the number of students completing Internet-based hunter-education courses has skyrocketed and nearly 40 states now offer this training. No longer must an aspiring hunter wait for a training course that fits his/her schedule. Using today's technology, students can complete a course at their leisure.
In addition to the ease of taking the course when it is convenient for the student, another benefit of online hunter education is that the learning materials are presented in a way that meets the needs of students, regardless of their learning style: visual, auditory or kinesthetic. Additionally, a student can complete the course at their own pace and repeat lessons if desired. Parents are finding that they are able to sit side-by-side with their child and study the materials together, thus reinforcing the learning material.
Today, the delivery of hunter education is at a crossroads. In 2005, the state of Indiana "rocked" the hunter-education world by offering residents of their state the opportunity to earn certification online without attendinga field-day component. Today, fewer than five states offer online certification without requiring students to complete field training.
Currently, Colorado authorizes the use of the original IHEA, non-narrated course, along with three narrated courses that range in price from $13 to $24.95. As Colorado's hunter-education standards and statues are written today, a student must complete an additional 4 hours of field training to earn their certificate.
In the coming months, the Colorado Parks and Wildlife Commission and agency staff will discuss the future of hunter education and how best to deliver the training to future hunters of this state. If and when changes are made, the online course providers will be ready, willing and able to move to the next phase.
Galaxy Note 5 Case, Sophia Shop Thin Ultra Slim Premium PU Leather+Hard PC Bumper Anti-scratch Shockproof Cover For Samsung Galaxy Note 5 (Glitter Purple)
Personal Computer
Particularly designed for Samsung Galaxy Note 5
Easy to use and install, uninstall, no toole needed, just SNAP ON
PU leather back cover+Hard PC frame protects your device scratches, dust, shock and fingerprint
Precise openings allow direct access to your phone features without removing the case cover
The sample fashion design makes your Samsung Galaxy Note 5 more personality
Popular Q&A
What is the age limit for getting your hunter safety card in Colorado
Youths must be at least 12 years old and meet hunter education requirements to hunt deer, elk, antelope and black bear.
How do you get a hunter safety CARD in Alabama?
There are 2 ways to get your Alabama Hunter Education Certificate: (1) you can take the traditional 2 day field course that will take a minimum of 10 hrs of your time. You need to be at least 10 years of age, it's free and involves splitting time between the classroom and the field. Alternatively, (2) you can take an on-line hunter safety prep course (HunterExam has the best one right now) and at the end of it, you get a voucher saying that you've taken the course and then you book a 4 hr field course somewhere locally which usually involves a brief review and then the exam.
The field …