DIY Elk hunting Colorado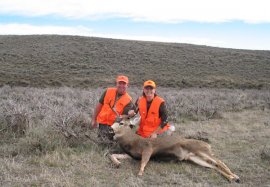 Six bulls, six bucks in six days, a successful Colorado do-it-yourself hunt on a budget!
New York State residents, Dan and Janet Wescott, had been hunting together almost as long as they had been married. They had been on both guided hunts and do-it-yourself hunts and the results from the guided hunts were impressive and are mounted in their living room. The do-it-yourself hunts on public land turned out to be unimpressive and more times than not they returned home tired and empty handed. It wasn't from a lack of hunting skill. The problem was hunter density, which turned out to be higher than animal density.
Dan felt they could do well if they hunted private land without a guide. They didn't really need a guide. They needed land to hunt with a reasonable number of deer or elk. When a friend at work asked if they would like to go to Colorado for a DIY (do-it-yourself) hunt with four other folks, the clincher was the location. The hunt would take place on private land without a guide, just the situation they had been looking for. The access fee of 00.00 provided 8, 500-prime acres of Colorado backcountry loaded with deer and elk.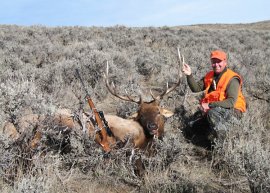 They would be sharing the ranch with six other hunters but after opening day, as people filled their tags, seeing other hunters would become less frequent. Under these conditions Dan and Janet quickly agreed.
Their lodging would be in a KOA campground or motel in Hayden, or Craig, Colorado, which ended talk about hauling a large wall tent and cooking paraphernalia cross-country. They would eat at restaurants and carry a sack lunch so they wouldn't have to worry about buying food and the hunt was just a 20-minute drive from town.
The day before the hunt the six hunters were shown the property boundaries and where to find the best bucks on the property. The elk were migrating through the area and could show up anytime, anywhere.
Opening day was dry and quiet and finding no elk and a few small deer was discouraging. The plan for day two was to hunt the north end of the ranch, which was more out of the way. It had fewer roads with steeper hills and draws making vehicle travel more difficult. They had just entered the area when Janet spotted a nice 4x4 buck slipping through the sagebrush. The buck was feeding and watching for danger and little did they know he was looking for a quiet place to spend the day.
You might also like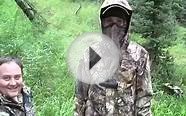 2011 Colorado Archery Elk Hunt(2/2)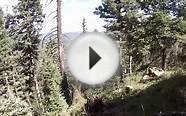 Elk hunt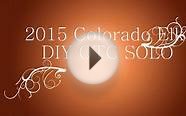 Colorado Elk Hunt 2015 DIY OTC SOLO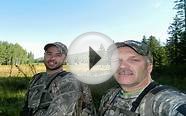 Colorado 2011 DIY Bow Hunt Elk- Josh Skibinski- Adirondack ...
Right Outside Episode 10 - DIY Colorado Elk Hunt
Popular Q&A