Elk hunts in Colorado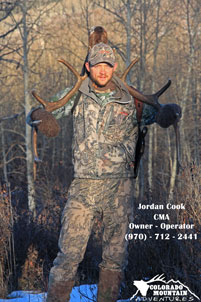 Our terrain reaches elevations of nearly 10, 000 feet, topped by the flat rim of the Mesa. Trout-filled lakes, aspen groves, canyons and numerous elk herds populate the land below, and we put you right where you want to be: the middle of it.
As our guest, you'll enjoy your wilderness experience from our base camp in spacious walled tents. We cook all your meals, so all you have to think about is your hunt, your next ride, or the fish bite.
Custom trips are available, so peruse our website and find what's "you." We offer several activities emblematic of the western slope, so call us (or email if you prefer) to organize your perfect vacation.
Your Ultimate Wilderness Outfitter
Jordan Cook, owner and guide
Jordan grew up on a farm in Missouri among a family of established hunters, and inevitably hunting became his first childhood occupation. He started chasing elk during an annual trip to visit his uncle, a Colorado elk guide, but his love of hunting grew larger than just big game.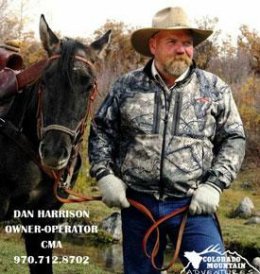 While still in college, he began his career in the outdoors guiding Illinois waterfowl hunts with clients from around the world. After college, he moved to Tennessee to work as a mechanical engineer, but quickly knew that a nine-to-five job wasn't for him. That knowledge grew in tandem with another feeling of discontent: one that told him a single elk hunt a year would never be enough. In August, 2013, he purchased Colorado Mountain Adventures and entered into a full-time partnership with Dan Harrison. When not hunting on the Mesa, he travels the country chasing everything from big game to ducks to hogs to turkeys.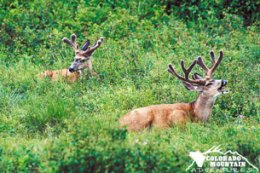 About Colorado Mountain Adventures
Dan Harrison, owner and guide
In preparation for a career as an outdoorsman spanning more than three decades, Colorado native Dan Harrison spent the majority of his youth fly fishing and hunting the mountains of his home state. He owned a timber and land management company in his early years, and through that earned notoriety with the Colorado Division of Wildlife for his sound environmental practices. As the years passed, his success managing wildlife grew and he took ownership of Colorado Mountain Adventures, among other ventures. His guiding experience earned him a nine-season hosting position on the Nielson-ranked The Best and Worst of Tred Barta, a role as an "elk expert" on Elk Fever, and appearances on many other outdoor shows. He now co-hosts the much-anticipated Remington Country TV.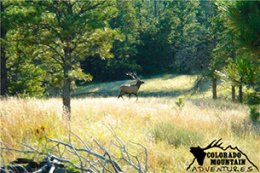 Colorado Mountain Adventures established its base camp on the Grand Mesa over 40 years ago and remains the sole outfitter on Unit 41 of the National Forest Service. Unit 41 is non-motorized, so we offer some of the most remote terrain in the state for the hunter, rider or fisherman seeking a truly backcountry experience.
We're based in Grand Junction, Colorado, but our guides combine decades of experience earned throughout the west and as far east as Illinois. We specialize in elk, bear and mule deer hunting, but offer high country trail riding and fly fishing trips as well.
Colorado Mountain Adventures operates under Special Use Permit by the US Forest Service, Colorado Outfitter #2582.
You might also like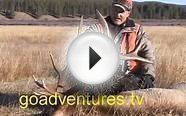 Colorado Elk Hunt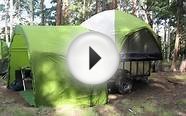 Elk Hunt Camp in the Colorado High Country
Americaware Colorado Emblem 18oz Ceramic Coffee Tea Mug Cup 5 Inches Long By 4.75 Inches Tall By 4 Inches in Diameter.


Kitchen




Mug holds up to 18oz of fluid. Made from ceramic.
Dishwasher and microwave safe.
Decorated with an emblem that depicts iconic Colorado sights.
Unique 3D emblem design on outside of mug.
Matte black interior with light cream rim and interior.